JPN Engine Valve Cover Gasket Set for 00-09 Toyota Tundra 4.7L V8 VS50592R
| | |
| --- | --- |
| Brand/Part #: | JPN L_EVS50592R-1 |
| Location: | Miami, Florida, US |
| Ship To Locations: | US - FREE SHIPPING |
Engine Valve Cover Gasket Set For Toyota Tundra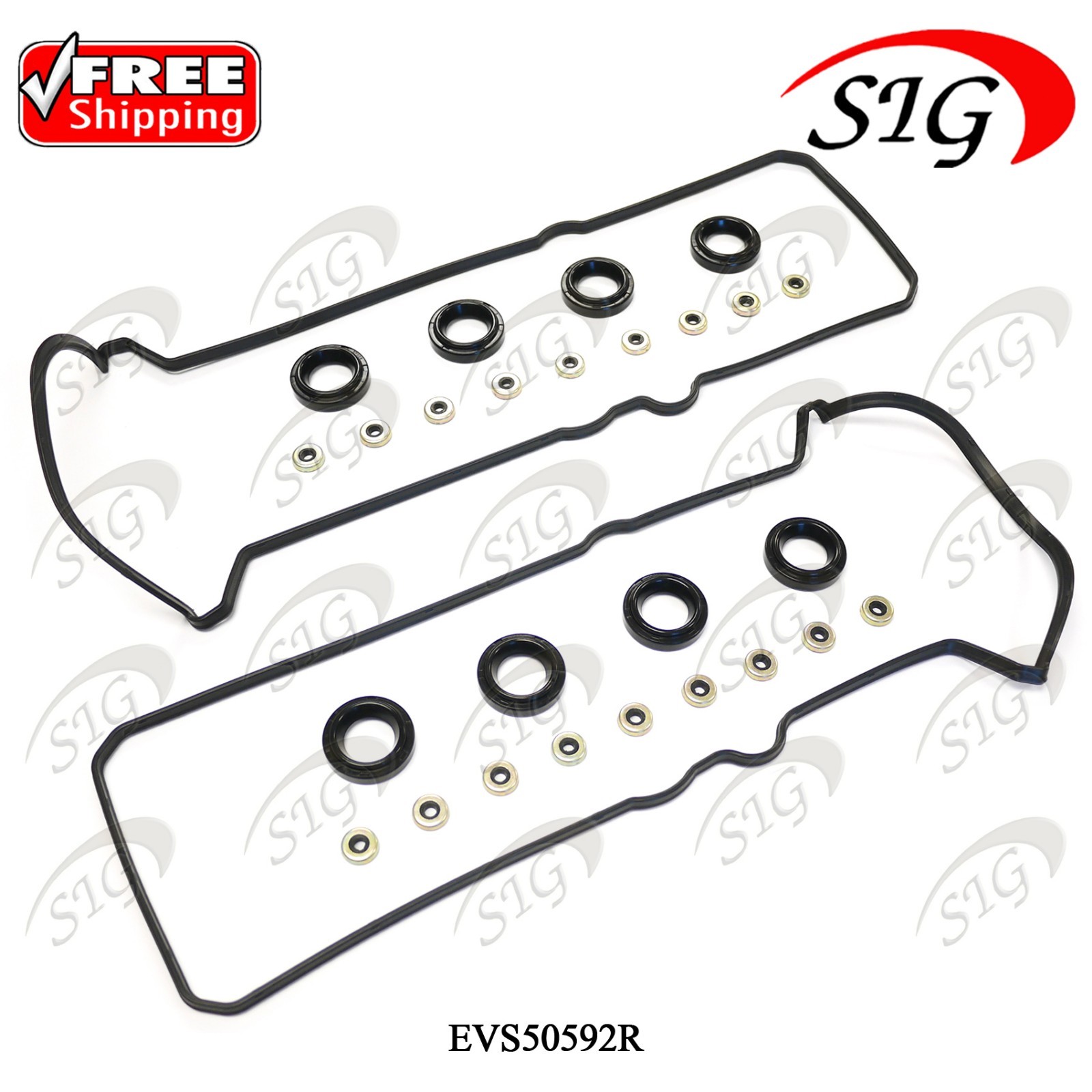 This Kit Fits

2000-2009 TOYOTA Tundra 285 CID 4.7L DOHC 32 Valves 94.00 Bore Engine Designation 2UZ-FE Gasoline

This item included

2x Valve Cover Gasket Set - EVS50592R
We accept only PayPal payments.

All purchases are shipped with 24 Business Hours (NOT INCLUDING WEEKENDS).

Items with "free shipping" are only shipped free to the 48 contiguous United States.

Shipment errors due to a bad address entered by the buyer and will not be credited for shipping charges if returned or at all if lost or abandoned by the carrier.

We supply tracking information directly to your eBay account within 24 hours after the shipment leaves our warehouse.

To protect the buyer, we only ship to PayPal Verified Addresses.

SIG Industrial Group warrant that all out products shall be free from defects in materials and/or workmanship for as long as they remain installed on the vehicle for which they were originally purchased. SIG offer a LIMITED LIFETIME WARRANTY only on the product. Shipping fees are not included in the execution of warranty claims. This warranty applies only on those products which have been installed in accordance with the industrial standards by a recognized professional service provider. A receipt from ASE certificated mechanic will be requested upon any warranty claims.

The warranty coverage described herein excludes all defects or damages that are not direct fault of SIG, including without limitation, one or more of the following: products damaged due to negligence, misuse or abuse, improper installation, collision, incorrect application, natural/environmental forces, water, fire, unauthorized disassembly or alteration, use of product outside of the context of its normal, modification, customary, and intended operating conditions (including without limitation, any form of commercial, fleet, rental, racing, or off-road use).

SIG is not liable for additional expenses incurred including but not limited to repair, towing, labor, rental car legal fees caused by any part failing for any reason. We assume or accept no warranty responsibility for the cost of shipping either the defective part or the replacement part. The stated warranty is limited to one replacement part per lifetime and is not transferable under any circumstances.

This warranty is in lieu of all other warranties, whether express or implied, and applies only to the first/original purchaser of the product and is not transferable. Anyone attempting to execute this warranty that is not the original purchaser of the product will cause the warranty to immediately void.

In order to claim a warranty please send us a message to receive a RIA number and instructions in how to send the product back to our installations. When the warranty part arrives to our location, if it complies with our warranty policy, we can either send you a refund, or we can exchange the product (Shipping is not included).

Note: You will need to provide us with the order number and the information of your vehicle (make, model, year or VIN number). IT takes 24-48 hours to receive a RIA number. Warranty can take up to 1 week to get approved and receive a refund. Products returned without a RIA number will not be accepted.

Within 30 Days of receipt of your order, you may return any product that has the original package, have not been used, installed or disassembled, have not been damaged due to improper installation or do not have missing parts, bags, hardware or instructions. All refunds are processed via PayPal within 2 business days after receiving the returned item. Buyer pays for returning shipping. We offer refunds and exchanges on unused or defective items within 30 days of purchase.

We accept return orders within 30 days of receipt. For return request, please e-mail us following information:

Your eBay ID
Full Name
Item #
Part Number
Reason for return (detailed explanation)
Photos of the parts you received
Your vehicle information (Brand, Model, Year, 4WD or 2WD, VIN Number)
All returns must be packaged properly.

We offer free return shipping only for arrived damaged, defective products, wrong items sent and missing pieces. Customers will be responsible for shipping cost and 20% restocking fee if ordered by mistake, changing mind or omission. Return orders need to be in the same condition as it was delivered (new, uninstalled, with original package) and packed properly.
Content copyright © shouieparts
Returns Accepted: Returns Accepted
Item must be returned within: 30 Days
Refund will be given as: Money back or replacement (buyer's choice)
Return shipping will be paid by: Seller
Kit or Single Part: Single Part
Placement on Vehicle: Front
Country/Region of Manufacture: Taiwan
Material: Molded Rubber Gaskets
OE Spec or Performance/Custom: OE Spec
Type: Valve Cover Gasket
Manufacturer Part Number: VS50592R, VC971G, VS25180
Other Part Number: 2000-235297, 036-1863, VS50343, 037-8140
Brand: JPN
Fitment Type: Direct Replacement
Warranty: 1 Year
UPC: Does not apply
SKU: L_EVS50592R-1
JPN Engine Valve Cover Gasket Set for 00-09 Toyota Tundra 4.7L V8 VS50592R fits on the following vehicles. This is for your reference only, please check your auto manual to make sure it fits.
YEAR
MAKE
MODEL
TRIM
NOTES
2009
Toyota
Tundra
Base Crew Cab Pickup 4-Door 4.7L 4663CC 285Cu. In. V8 GAS DOHC Naturally Aspirated
Engine Designation 2UZ-FE Gasoline
2009
Toyota
Tundra
Base Extended Crew Cab Pickup 4-Door 4.7L 4663CC 285Cu. In. V8 GAS DOHC Naturally Aspirated
Engine Designation 2UZ-FE Gasoline
2009
Toyota
Tundra
Base Standard Cab Pickup 2-Door 4.7L 4663CC 285Cu. In. V8 GAS DOHC Naturally Aspirated
Engine Designation 2UZ-FE Gasoline
2009
Toyota
Tundra
Limited Crew Cab Pickup 4-Door 4.7L 4663CC 285Cu. In. V8 GAS DOHC Naturally Aspirated
Engine Designation 2UZ-FE Gasoline
2009
Toyota
Tundra
Limited Extended Crew Cab Pickup 4-Door 4.7L 4663CC 285Cu. In. V8 GAS DOHC Naturally Aspirated
Engine Designation 2UZ-FE Gasoline
2009
Toyota
Tundra
SR5 Crew Cab Pickup 4-Door 4.7L 4663CC 285Cu. In. V8 GAS DOHC Naturally Aspirated
Engine Designation 2UZ-FE Gasoline
2009
Toyota
Tundra
SR5 Extended Crew Cab Pickup 4-Door 4.7L 4663CC 285Cu. In. V8 GAS DOHC Naturally Aspirated
Engine Designation 2UZ-FE Gasoline
2008
Toyota
Tundra
Base Crew Cab Pickup 4-Door 4.7L 4663CC 285Cu. In. V8 GAS DOHC Naturally Aspirated
Engine Designation 2UZ-FE Gasoline
2008
Toyota
Tundra
Base Extended Crew Cab Pickup 4-Door 4.7L 4663CC 285Cu. In. V8 GAS DOHC Naturally Aspirated
Engine Designation 2UZ-FE Gasoline
2008
Toyota
Tundra
Base Standard Cab Pickup 2-Door 4.7L 4663CC 285Cu. In. V8 GAS DOHC Naturally Aspirated
Engine Designation 2UZ-FE Gasoline
2008
Toyota
Tundra
Limited Crew Cab Pickup 4-Door 4.7L 4663CC 285Cu. In. V8 GAS DOHC Naturally Aspirated
Engine Designation 2UZ-FE Gasoline
2008
Toyota
Tundra
Limited Extended Crew Cab Pickup 4-Door 4.7L 4663CC 285Cu. In. V8 GAS DOHC Naturally Aspirated
Engine Designation 2UZ-FE Gasoline
2008
Toyota
Tundra
SR5 Crew Cab Pickup 4-Door 4.7L 4663CC 285Cu. In. V8 GAS DOHC Naturally Aspirated
Engine Designation 2UZ-FE Gasoline
2008
Toyota
Tundra
SR5 Extended Crew Cab Pickup 4-Door 4.7L 4663CC 285Cu. In. V8 GAS DOHC Naturally Aspirated
Engine Designation 2UZ-FE Gasoline
2007
Toyota
Tundra
Base Standard Cab Pickup 2-Door 4.7L 4663CC 285Cu. In. V8 GAS DOHC Naturally Aspirated
Engine Designation 2UZ-FE Gasoline
2007
Toyota
Tundra
Limited Crew Cab Pickup 4-Door 4.7L 4663CC 285Cu. In. V8 GAS DOHC Naturally Aspirated
Engine Designation 2UZ-FE Gasoline
2007
Toyota
Tundra
Limited Extended Crew Cab Pickup 4-Door 4.7L 4663CC 285Cu. In. V8 GAS DOHC Naturally Aspirated
Engine Designation 2UZ-FE Gasoline
2007
Toyota
Tundra
SR5 Crew Cab Pickup 4-Door 4.7L 4663CC 285Cu. In. V8 GAS DOHC Naturally Aspirated
Engine Designation 2UZ-FE Gasoline
2007
Toyota
Tundra
SR5 Extended Crew Cab Pickup 4-Door 4.7L 4663CC 285Cu. In. V8 GAS DOHC Naturally Aspirated
Engine Designation 2UZ-FE Gasoline
2007
Toyota
Tundra
SR5 Standard Cab Pickup 2-Door 4.7L 4663CC 285Cu. In. V8 GAS DOHC Naturally Aspirated
Engine Designation 2UZ-FE Gasoline
2006
Toyota
Tundra
Base Standard Cab Pickup 2-Door 4.7L 4663CC 285Cu. In. V8 GAS DOHC Naturally Aspirated
Engine Designation 2UZ-FE Gasoline
2006
Toyota
Tundra
Limited Crew Cab Pickup 4-Door 4.7L 4663CC 285Cu. In. V8 GAS DOHC Naturally Aspirated
Engine Designation 2UZ-FE Gasoline
2006
Toyota
Tundra
Limited Extended Cab Pickup 4-Door 4.7L 4663CC 285Cu. In. V8 GAS DOHC Naturally Aspirated
Engine Designation 2UZ-FE Gasoline
2006
Toyota
Tundra
SR5 Crew Cab Pickup 4-Door 4.7L 4663CC 285Cu. In. V8 GAS DOHC Naturally Aspirated
Engine Designation 2UZ-FE Gasoline
2006
Toyota
Tundra
SR5 Extended Cab Pickup 4-Door 4.7L 4663CC 285Cu. In. V8 GAS DOHC Naturally Aspirated
Engine Designation 2UZ-FE Gasoline
2005
Toyota
Tundra
Base Crew Cab Pickup 4-Door 4.7L 4663CC 285Cu. In. V8 GAS DOHC Naturally Aspirated
Engine Designation 2UZ-FE Gasoline
2005
Toyota
Tundra
Base Extended Cab Pickup 4-Door 4.7L 4663CC 285Cu. In. V8 GAS DOHC Naturally Aspirated
Engine Designation 2UZ-FE Gasoline
2005
Toyota
Tundra
Base Standard Cab Pickup 2-Door 4.7L 4663CC 285Cu. In. V8 GAS DOHC Naturally Aspirated
Engine Designation 2UZ-FE Gasoline
2005
Toyota
Tundra
Limited Crew Cab Pickup 4-Door 4.7L 4663CC 285Cu. In. V8 GAS DOHC Naturally Aspirated
Engine Designation 2UZ-FE Gasoline
2005
Toyota
Tundra
Limited Extended Cab Pickup 4-Door 4.7L 4663CC 285Cu. In. V8 GAS DOHC Naturally Aspirated
Engine Designation 2UZ-FE Gasoline
2005
Toyota
Tundra
Limited Standard Cab Pickup 2-Door 4.7L 4663CC 285Cu. In. V8 GAS DOHC Naturally Aspirated
Engine Designation 2UZ-FE Gasoline
2005
Toyota
Tundra
SR5 Crew Cab Pickup 4-Door 4.7L 4663CC 285Cu. In. V8 GAS DOHC Naturally Aspirated
Engine Designation 2UZ-FE Gasoline
2005
Toyota
Tundra
SR5 Extended Cab Pickup 4-Door 4.7L 4663CC 285Cu. In. V8 GAS DOHC Naturally Aspirated
Engine Designation 2UZ-FE Gasoline
2005
Toyota
Tundra
SR5 Standard Cab Pickup 2-Door 4.7L 4663CC 285Cu. In. V8 GAS DOHC Naturally Aspirated
Engine Designation 2UZ-FE Gasoline
2004
Toyota
Tundra
Limited Crew Cab Pickup 4-Door 4.7L 4663CC 285Cu. In. V8 GAS DOHC Naturally Aspirated
Engine Designation 2UZ-FE Gasoline
2004
Toyota
Tundra
Limited Extended Cab Pickup 4-Door 4.7L 4663CC 285Cu. In. V8 GAS DOHC Naturally Aspirated
Engine Designation 2UZ-FE Gasoline
2004
Toyota
Tundra
SR5 Crew Cab Pickup 4-Door 4.7L 4663CC 285Cu. In. V8 GAS DOHC Naturally Aspirated
Engine Designation 2UZ-FE Gasoline
2004
Toyota
Tundra
SR5 Extended Cab Pickup 4-Door 4.7L 4663CC 285Cu. In. V8 GAS DOHC Naturally Aspirated
Engine Designation 2UZ-FE Gasoline
2004
Toyota
Tundra
SR5 Standard Cab Pickup 2-Door 4.7L 4663CC 285Cu. In. V8 GAS DOHC Naturally Aspirated
Engine Designation 2UZ-FE Gasoline
2003
Toyota
Tundra
Limited Extended Cab Pickup 4-Door 4.7L 4663CC 285Cu. In. V8 GAS DOHC Naturally Aspirated
Engine Designation 2UZ-FE Gasoline
2003
Toyota
Tundra
SR5 Extended Cab Pickup 4-Door 4.7L 4663CC 285Cu. In. V8 GAS DOHC Naturally Aspirated
Engine Designation 2UZ-FE Gasoline
2003
Toyota
Tundra
SR5 Standard Cab Pickup 2-Door 4.7L 4663CC 285Cu. In. V8 GAS DOHC Naturally Aspirated
Engine Designation 2UZ-FE Gasoline
2002
Toyota
Tundra
Limited Extended Cab Pickup 4-Door 4.7L 4663CC 285Cu. In. V8 GAS DOHC Naturally Aspirated
Engine Designation 2UZ-FE Gasoline
2002
Toyota
Tundra
SR5 Extended Cab Pickup 4-Door 4.7L 4663CC 285Cu. In. V8 GAS DOHC Naturally Aspirated
Engine Designation 2UZ-FE Gasoline
2002
Toyota
Tundra
SR5 Standard Cab Pickup 2-Door 4.7L 4663CC 285Cu. In. V8 GAS DOHC Naturally Aspirated
Engine Designation 2UZ-FE Gasoline
2001
Toyota
Tundra
Limited Extended Cab Pickup 4-Door 4.7L 4663CC 285Cu. In. V8 GAS DOHC Naturally Aspirated
Engine Designation 2UZ-FE Gasoline
2001
Toyota
Tundra
SR5 Extended Cab Pickup 4-Door 4.7L 4663CC 285Cu. In. V8 GAS DOHC Naturally Aspirated
Engine Designation 2UZ-FE Gasoline
2001
Toyota
Tundra
SR5 Standard Cab Pickup 2-Door 4.7L 4663CC 285Cu. In. V8 GAS DOHC Naturally Aspirated
Engine Designation 2UZ-FE Gasoline
2000
Toyota
Tundra
Limited Extended Cab Pickup 4-Door 4.7L 4663CC 285Cu. In. V8 GAS DOHC Naturally Aspirated
Engine Designation 2UZ-FE Gasoline
2000
Toyota
Tundra
SR5 Extended Cab Pickup 4-Door 4.7L 4663CC 285Cu. In. V8 GAS DOHC Naturally Aspirated
Engine Designation 2UZ-FE Gasoline
2000
Toyota
Tundra
SR5 Standard Cab Pickup 2-Door 4.7L 4663CC 285Cu. In. V8 GAS DOHC Naturally Aspirated
Engine Designation 2UZ-FE Gasoline