Valve Cover Gasket for 1999~2016 GM/Isuzu/Saab 4.8L 5.3L 5.7L 6.0L 6.2L 7.0L V8
| | |
| --- | --- |
| Brand/Part #: | Unbranded QP-865_US Lan |
| Location: | Walton, Kentucky, US |
| Ship To Locations: | US - FREE SHIPPING |
Valve Cover Gasket Set With Grommets VS50504R1 VS50250A For 1999~2016 GM/Isuzu/Saab 4.8L 5.3L 5.7L 6.0L 6.2L 7.0L V8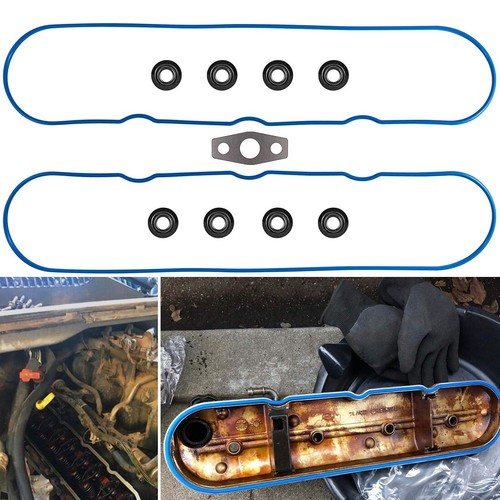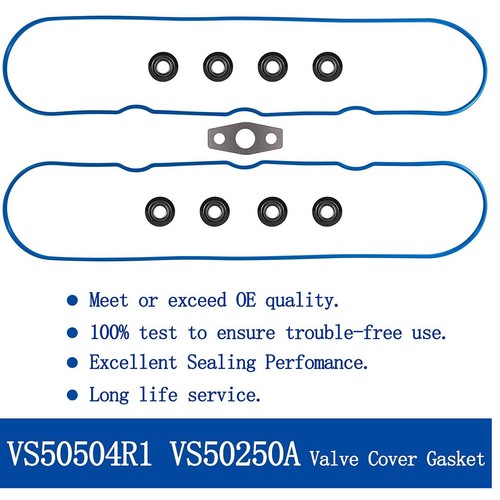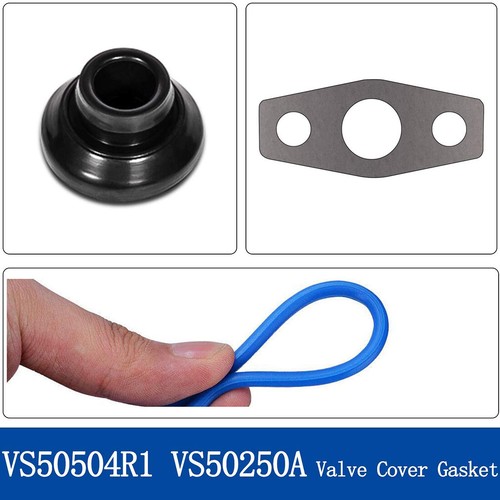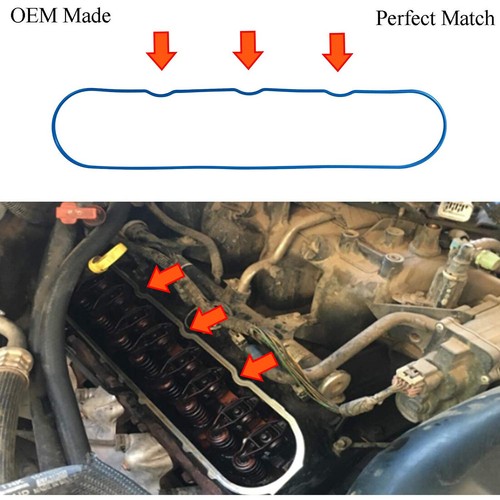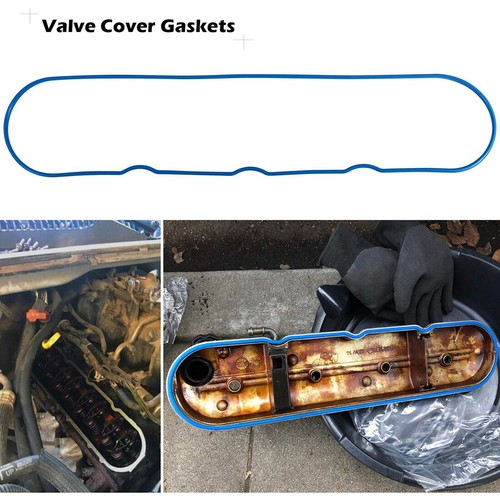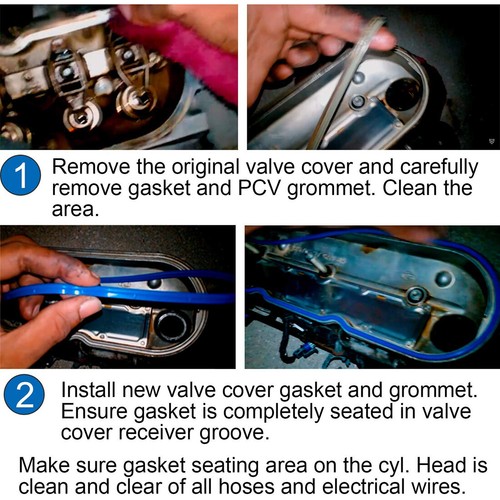 Product Description
Fitment:
Great Compatibility — Works on 2001~2004 AV V8 5665cc 5.7L Chevrolet / 1999 CAL V8 5665cc 5.7L Chevrolet / 2005~2009 GM V8 5328cc 5.3L Chevrolet / 1999~2005 GM V8 5665cc 5.7L Chevrolet / 2005~2011 GM V8 5967cc 6.0L Chevrolet / 2008~2011 GM V8 6195cc 6.2L Chevrolet / 1999~2011 GMT L/D V8 4807 / AVANTI, BUICK, CADILLAC, CHEVROLET, GMC, HUMMER, ISUZU, PONTIAC AND SAAB 4.8L, 5.3L, 6.0L, 6.2L, 7.0L OHV V8 16V VORTEC.
Special Features — Replace VS50504R1 and VS50250A. Include: 2 x Valve Covers / 1 X Graphite Gasket / 8 x Grommets.
Benefit — No more leaks. Engine bay is clean. It securely seals the valve cover so that oil leaks will be prevented each time it pools lubricant oil as it goes to the cylinder head's drain back opening. Aside from oil, this gasket also helps prevent the entry of other harmful materials to the valve train.
Superior Quality — Made of high quality rubber, with great leakproofness, and durable to ues. Directly replace the original parts more useful.
for 2001-2004 Avanti II
for 2008-2009 Buick Allure/LaCrosse
for 2004-2007 Buick Rainier
for 2004-2015 Cadillac CTS
for 2002-2014 Cadillac Escalade
for 2003-2014 Cadillac Escalade ESV/Express 1500
for 2002-2013 Cadillac Escalade EXT
for 2007-2013 Chevrolet Avalanche
for 2002-2006 Chevrolet Avalanche 1500
for 1999-2015 Chevrolet Camaro
for 2011-2015 Chevrolet Caprice
for 2009-2012 Chevrolet Colorado
for 1999-2013 Chevrolet Corvette/Silverado 1500
for 2003-2016 Chevrolet Express 2500/3500
for 2006-2009 Chevrolet Impala/Trailblazer
for 2006-2007 Chevrolet Monte Carlo
for 2007 Chevrolet Silverado 1500 Classic/Silverado 1500 HD Classic/Silverado 2500 HD Classic/Silverado 3500 Classic
for 2001-2006 Chevrolet Silverado 1500 HD/Silverado 3500
for 1999-2004 Chevrolet Silverado 2500
for 2001-2016 Chevrolet Silverado 2500 HD
for 2007-2016 Chevrolet Silverado 3500 HD
for 2003-2006 Chevrolet SSR/Trailblazer EXT
for 2000-2014 Chevrolet Suburban 1500/Tahoe
for 2000-2013 Chevrolet Suburban 2500
GMC
Canyon 2009-2012
Envoy 2003-2009
Savana 2003-2016
Sierra 1500 1999-2013
Sierra 2500 1999-2016
Sierra 3500 2001-2016
Yukon 2000-2014
Yukon Denali 2001-2014

Hummer
H2 2003-2009
H3 2008-2010
H3T 2009-2010

Isuzu
Ascender 2003-2006

Pontiac
Firebird 1999-2002
G8 2008-2009
GTO 2004-2006
Grand Prix 2005-2008

Saab
9-7X 2005-2009
Package Included:
2 x Valve Cover Gaskets
8 x Grommets
1 x Graphite Gasket
Please be sure your shipping address is correct.
We normally reply your email within 24 business hours.
Restocking Fee: No
Returns Accepted: Returns Accepted
Item must be returned within: 60 Days
Refund will be given as: Money back or replacement (buyer's choice)
Return shipping will be paid by: Buyer
Country/Region of Manufacture: China
Material: Rubber
Type: Head Gasket Kit
Surface Finish: silicone
Manufacturer Part Number: Does Not Apply
Brand: Unbranded
Fitment Type: Direct Replacement
Warranty: 1 Year
UPC: Does not apply
SKU: QP-865_US Lan
Valve Cover Gasket for 1999~2016 GM/Isuzu/Saab 4.8L 5.3L 5.7L 6.0L 6.2L 7.0L V8 fits on the following vehicles. This is for your reference only, please check your auto manual to make sure it fits.
YEAR
MAKE
MODEL
TRIM
NOTES
2018
Chevrolet
Camaro
LS Convertible 2-Door 2.0L 1998CC 122Cu. In. l4 GAS DOHC Turbocharged
2018
Chevrolet
Camaro
LS Convertible 2-Door 3.6L 222Cu. In. V6 GAS DOHC Naturally Aspirated
2018
Chevrolet
Camaro
LS Coupe 2-Door 2.0L 1998CC 122Cu. In. l4 GAS DOHC Turbocharged
2018
Chevrolet
Camaro
LS Coupe 2-Door 3.6L 222Cu. In. V6 GAS DOHC Naturally Aspirated
2018
Chevrolet
Camaro
LT Convertible 2-Door 2.0L 1998CC 122Cu. In. l4 GAS DOHC Turbocharged
2018
Chevrolet
Camaro
LT Convertible 2-Door 3.6L 222Cu. In. V6 GAS DOHC Naturally Aspirated
2018
Chevrolet
Camaro
LT Coupe 2-Door 2.0L 1998CC 122Cu. In. l4 GAS DOHC Turbocharged
2018
Chevrolet
Camaro
LT Coupe 2-Door 3.6L 222Cu. In. V6 GAS DOHC Naturally Aspirated
2018
Chevrolet
Camaro
RS Coupe 2-Door 3.6L 222Cu. In. V6 GAS DOHC Naturally Aspirated
2018
Chevrolet
Camaro
RS Edicion Especial Coupe 2-Door 3.6L 222Cu. In. V6 GAS DOHC Naturally Aspirated
2018
Chevrolet
Camaro
SS Convertible 2-Door 6.2L 6162CC 376Cu. In. V8 GAS OHV Naturally Aspirated
2018
Chevrolet
Camaro
SS Coupe 2-Door 6.2L 6162CC 376Cu. In. V8 GAS OHV Naturally Aspirated
2018
Chevrolet
Camaro
ZL1 Convertible 2-Door 6.2L 6162CC 376Cu. In. V8 GAS OHV Supercharged
2018
Chevrolet
Camaro
ZL1 Coupe 2-Door 6.2L 6162CC 376Cu. In. V8 GAS OHV Supercharged
2018
Chevrolet
Suburban
HD Sport Utility 4-Door 6.0L 5967CC 364Cu. In. V8 FLEX OHV Naturally Aspirated
2018
Chevrolet
Suburban
LS Sport Utility 4-Door 5.3L 5328CC 325Cu. In. V8 FLEX OHV Naturally Aspirated
2018
Chevrolet
Suburban
LS Sport Utility 4-Door 5.3L 5328CC 325Cu. In. V8 GAS OHV Naturally Aspirated
2018
Chevrolet
Suburban
LT Sport Utility 4-Door 5.3L 5328CC 325Cu. In. V8 FLEX OHV Naturally Aspirated
2018
Chevrolet
Suburban
LT Sport Utility 4-Door 5.3L 5328CC 325Cu. In. V8 GAS OHV Naturally Aspirated
2018
Chevrolet
Suburban
Premier Sport Utility 4-Door 5.3L 5328CC 325Cu. In. V8 FLEX OHV Naturally Aspirated
2018
Chevrolet
Suburban
Premier Sport Utility 4-Door 5.3L 5328CC 325Cu. In. V8 GAS OHV Naturally Aspirated
2017
Chevrolet
Camaro
LS Convertible 2-Door 2.0L 1998CC 122Cu. In. l4 GAS DOHC Turbocharged
2017
Chevrolet
Camaro
LS Convertible 2-Door 3.6L 222Cu. In. V6 GAS DOHC Naturally Aspirated
2017
Chevrolet
Camaro
LS Coupe 2-Door 2.0L 1998CC 122Cu. In. l4 GAS DOHC Turbocharged
2017
Chevrolet
Camaro
LS Coupe 2-Door 3.6L 222Cu. In. V6 GAS DOHC Naturally Aspirated
2017
Chevrolet
Camaro
LT Convertible 2-Door 2.0L 1998CC 122Cu. In. l4 GAS DOHC Turbocharged
2017
Chevrolet
Camaro
LT Convertible 2-Door 3.6L 222Cu. In. V6 GAS DOHC Naturally Aspirated
2017
Chevrolet
Camaro
LT Coupe 2-Door 2.0L 1998CC 122Cu. In. l4 GAS DOHC Turbocharged
2017
Chevrolet
Camaro
LT Coupe 2-Door 3.6L 222Cu. In. V6 GAS DOHC Naturally Aspirated
2017
Chevrolet
Camaro
RS Coupe 2-Door 3.6L 222Cu. In. V6 GAS DOHC Naturally Aspirated
2017
Chevrolet
Camaro
SS Convertible 2-Door 6.2L 6162CC 376Cu. In. V8 GAS OHV Naturally Aspirated
2017
Chevrolet
Camaro
SS Coupe 2-Door 6.2L 6162CC 376Cu. In. V8 GAS OHV Naturally Aspirated
2017
Chevrolet
Camaro
ZL1 Convertible 2-Door 6.2L 6162CC 376Cu. In. V8 GAS OHV Supercharged
2017
Chevrolet
Camaro
ZL1 Coupe 2-Door 6.2L 6162CC 376Cu. In. V8 GAS OHV Supercharged
2017
Chevrolet
Suburban
HD Sport Utility 4-Door 6.0L 5967CC 364Cu. In. V8 FLEX OHV Naturally Aspirated
2017
Chevrolet
Suburban
LS Sport Utility 4-Door 5.3L 5328CC 325Cu. In. V8 FLEX OHV Naturally Aspirated
2017
Chevrolet
Suburban
LT Sport Utility 4-Door 5.3L 5328CC 325Cu. In. V8 FLEX OHV Naturally Aspirated
2017
Chevrolet
Suburban
Premier Sport Utility 4-Door 5.3L 5328CC 325Cu. In. V8 FLEX OHV Naturally Aspirated
2016
Chevrolet
Camaro
LT Convertible 2-Door 2.0L 1998CC 122Cu. In. l4 GAS DOHC Turbocharged
2016
Chevrolet
Camaro
LT Convertible 2-Door 3.6L 222Cu. In. V6 GAS DOHC Naturally Aspirated
2016
Chevrolet
Camaro
LT Coupe 2-Door 2.0L 1998CC 122Cu. In. l4 GAS DOHC Turbocharged
2016
Chevrolet
Camaro
LT Coupe 2-Door 3.6L 222Cu. In. V6 GAS DOHC Naturally Aspirated
2016
Chevrolet
Camaro
SS Convertible 2-Door 6.2L 6162CC 376Cu. In. V8 GAS OHV Naturally Aspirated
2016
Chevrolet
Camaro
SS Coupe 2-Door 6.2L 6162CC 376Cu. In. V8 GAS Naturally Aspirated
2016
Chevrolet
Camaro
SS Coupe 2-Door 6.2L 6162CC 376Cu. In. V8 GAS OHV Naturally Aspirated
2016
Chevrolet
Silverado 2500
Base Crew Cab Pickup 4-Door 5.3L 5328CC 325Cu. In. V8 GAS Naturally Aspirated
2016
Chevrolet
Silverado 2500
Base Standard Cab Pickup 2-Door 5.3L 5328CC 325Cu. In. V8 GAS Naturally Aspirated
2016
Chevrolet
Silverado 2500
LS Extended Cab Pickup 4-Door 5.3L 5328CC 325Cu. In. V8 GAS Naturally Aspirated
2016
Chevrolet
Silverado 3500
Base Cab & Chassis 2-Door 6.0L 5967CC 364Cu. In. V8 GAS Naturally Aspirated
2016
Chevrolet
Suburban
HD Sport Utility 4-Door 6.0L 5967CC 364Cu. In. V8 GAS Naturally Aspirated
2016
Chevrolet
Suburban
LS Sport Utility 4-Door 5.3L 5328CC 325Cu. In. V8 FLEX OHV Naturally Aspirated
2016
Chevrolet
Suburban
LT Sport Utility 4-Door 5.3L 5328CC 325Cu. In. V8 FLEX OHV Naturally Aspirated
2016
Chevrolet
Suburban
LT Sport Utility 4-Door 5.3L 5328CC 325Cu. In. V8 GAS OHV Naturally Aspirated
2016
Chevrolet
Suburban
LTZ Sport Utility 4-Door 5.3L 5328CC 325Cu. In. V8 FLEX OHV Naturally Aspirated
2016
Chevrolet
Suburban
LTZ Sport Utility 4-Door 5.3L 5328CC 325Cu. In. V8 GAS OHV Naturally Aspirated
2015
Cadillac
CTS
Base Sedan 4-Door 2.0L 1998CC 122Cu. In. l4 GAS DOHC Turbocharged
2015
Cadillac
CTS
Luxury Sedan 4-Door 2.0L 1998CC 122Cu. In. l4 GAS DOHC Turbocharged
2015
Cadillac
CTS
Luxury Sedan 4-Door 3.6L 3564CC 217Cu. In. V6 FLEX DOHC Naturally Aspirated
2015
Cadillac
CTS
Performance Sedan 4-Door 2.0L 1998CC 122Cu. In. l4 GAS DOHC Turbocharged
2015
Cadillac
CTS
Performance Sedan 4-Door 3.6L 3564CC 217Cu. In. V6 FLEX DOHC Naturally Aspirated
2015
Cadillac
CTS
Premium Sedan 4-Door 2.0L 1998CC 122Cu. In. l4 GAS DOHC Turbocharged
2015
Cadillac
CTS
Premium Sedan 4-Door 3.6L 3564CC 217Cu. In. V6 FLEX DOHC Naturally Aspirated
2015
Cadillac
CTS
Premium Sedan 4-Door 3.6L 3564CC 217Cu. In. V6 GAS DOHC Naturally Aspirated
2015
Cadillac
CTS
V Coupe 2-Door 6.2L 6162CC 376Cu. In. V8 GAS OHV Supercharged
2015
Cadillac
CTS
Vsport Premium Sedan 4-Door 3.6L 3564CC 217Cu. In. V6 GAS DOHC Turbocharged
2015
Cadillac
CTS
Vsport Sedan 4-Door 3.6L 3564CC 217Cu. In. V6 GAS DOHC Turbocharged
2015
Chevrolet
Camaro
LS Coupe 2-Door 3.6L 3564CC 217Cu. In. V6 GAS DOHC Naturally Aspirated
2015
Chevrolet
Camaro
LT Convertible 2-Door 3.6L 3564CC 217Cu. In. V6 GAS DOHC Naturally Aspirated
2015
Chevrolet
Camaro
LT Coupe 2-Door 3.6L 3564CC 217Cu. In. V6 GAS DOHC Naturally Aspirated
2015
Chevrolet
Camaro
SS Convertible 2-Door 6.2L 6162CC 376Cu. In. V8 GAS OHV Naturally Aspirated
2015
Chevrolet
Camaro
SS Coupe 2-Door 6.2L 6162CC 376Cu. In. V8 GAS OHV Naturally Aspirated
2015
Chevrolet
Camaro
Z/28 Coupe 2-Door 7.0L 7011CC 427Cu. In. V8 GAS OHV Naturally Aspirated
2015
Chevrolet
Camaro
ZL1 Convertible 2-Door 6.2L 6162CC 376Cu. In. V8 GAS OHV Supercharged
2015
Chevrolet
Camaro
ZL1 Coupe 2-Door 6.2L 6162CC 376Cu. In. V8 GAS OHV Supercharged
2015
Chevrolet
Caprice
PPV Sedan 4-Door 3.6L 3564CC 217Cu. In. V6 FLEX DOHC Naturally Aspirated
2015
Chevrolet
Caprice
PPV Sedan 4-Door 6.0L 5967CC 364Cu. In. V8 FLEX OHV Naturally Aspirated
2015
Chevrolet
Silverado 2500
LS Extended Cab Pickup 4-Door 5.3L 5328CC 325Cu. In. V8 GAS OHV Naturally Aspirated
2015
Chevrolet
Silverado 3500
Base Cab & Chassis 2-Door 6.0L 5967CC 364Cu. In. V8 GAS OHV Naturally Aspirated
2014
Cadillac
CTS
Base Coupe 2-Door 2.0L 1998CC 122Cu. In. l4 GAS DOHC Turbocharged
2014
Cadillac
CTS
Base Coupe 2-Door 3.6L 3564CC 217Cu. In. V6 FLEX DOHC Naturally Aspirated
2014
Cadillac
CTS
Base Sedan 4-Door 2.0L 1998CC 122Cu. In. l4 GAS DOHC Turbocharged
2014
Cadillac
CTS
Base Sedan 4-Door 3.6L 3564CC 217Cu. In. V6 FLEX DOHC Naturally Aspirated
2014
Cadillac
CTS
Coupe Coupe 2-Door 3.6L 3564CC 217Cu. In. V6 GAS DOHC Naturally Aspirated
2014
Cadillac
CTS
Luxury Sedan 4-Door 2.0L 1998CC 122Cu. In. l4 GAS DOHC Turbocharged
2014
Cadillac
CTS
Luxury Sedan 4-Door 3.0L 182Cu. In. V6 GAS DOHC Naturally Aspirated
2014
Cadillac
CTS
Luxury Sedan 4-Door 3.6L 3564CC 217Cu. In. V6 FLEX DOHC Naturally Aspirated
2014
Cadillac
CTS
Luxury Wagon 4-Door 2.0L 1998CC 122Cu. In. l4 GAS DOHC Turbocharged
2014
Cadillac
CTS
Luxury Wagon 4-Door 3.0L 182Cu. In. V6 GAS DOHC Naturally Aspirated
2014
Cadillac
CTS
Luxury Wagon 4-Door 3.6L 3564CC 217Cu. In. V6 FLEX DOHC Naturally Aspirated
2014
Cadillac
CTS
Performance Coupe 2-Door 2.0L 1998CC 122Cu. In. l4 GAS DOHC Turbocharged
2014
Cadillac
CTS
Performance Coupe 2-Door 3.6L 3564CC 217Cu. In. V6 FLEX DOHC Naturally Aspirated
2014
Cadillac
CTS
Performance Sedan 4-Door 2.0L 1998CC 122Cu. In. l4 GAS DOHC Turbocharged
2014
Cadillac
CTS
Performance Sedan 4-Door 3.6L 3564CC 217Cu. In. V6 FLEX DOHC Naturally Aspirated
2014
Cadillac
CTS
Performance Wagon 4-Door 2.0L 1998CC 122Cu. In. l4 GAS DOHC Turbocharged
2014
Cadillac
CTS
Performance Wagon 4-Door 3.6L 3564CC 217Cu. In. V6 FLEX DOHC Naturally Aspirated
2014
Cadillac
CTS
Premium Coupe 2-Door 2.0L 1998CC 122Cu. In. l4 GAS DOHC Turbocharged
2014
Cadillac
CTS
Premium Coupe 2-Door 3.6L 3564CC 217Cu. In. V6 FLEX DOHC Naturally Aspirated
2014
Cadillac
CTS
Premium Coupe 2-Door 3.6L 3564CC 217Cu. In. V6 GAS DOHC Naturally Aspirated
2014
Cadillac
CTS
Premium Sedan 4-Door 2.0L 1998CC 122Cu. In. l4 GAS DOHC Turbocharged
2014
Cadillac
CTS
Premium Sedan 4-Door 3.6L 3564CC 217Cu. In. V6 FLEX DOHC Naturally Aspirated
2014
Cadillac
CTS
Premium Sedan 4-Door 3.6L 3564CC 217Cu. In. V6 GAS DOHC Naturally Aspirated
2014
Cadillac
CTS
Premium Wagon 4-Door 2.0L 1998CC 122Cu. In. l4 GAS DOHC Turbocharged
2014
Cadillac
CTS
Premium Wagon 4-Door 3.6L 3564CC 217Cu. In. V6 FLEX DOHC Naturally Aspirated
2014
Cadillac
CTS
V Coupe 2-Door 6.2L 6162CC 376Cu. In. V8 GAS OHV Supercharged
2014
Cadillac
CTS
V Luxury Coupe 2-Door 6.2L 6162CC 376Cu. In. V8 GAS OHV Supercharged
2014
Cadillac
CTS
V Premium Black Diamond Coupe 2-Door 6.2L 6162CC 376Cu. In. V8 GAS OHV Supercharged
2014
Cadillac
CTS
V Sedan 4-Door 6.2L 6162CC 376Cu. In. V8 GAS OHV Supercharged
2014
Cadillac
CTS
V Wagon 4-Door 6.2L 6162CC 376Cu. In. V8 GAS OHV Supercharged
2014
Cadillac
CTS
Vsport Premium Sedan 4-Door 3.6L 3564CC 217Cu. In. V6 GAS DOHC Turbocharged
2014
Cadillac
CTS
Vsport Sedan 4-Door 3.6L 3564CC 217Cu. In. V6 GAS DOHC Turbocharged
2014
Cadillac
Escalade
Base Sport Utility 4-Door 6.2L 6162CC 376Cu. In. V8 FLEX OHV Naturally Aspirated
2014
Cadillac
Escalade
Luxury Sport Utility 4-Door 6.2L 6162CC 376Cu. In. V8 FLEX OHV Naturally Aspirated
2014
Cadillac
Escalade
Platinum Sport Utility 4-Door 6.2L 6162CC 376Cu. In. V8 FLEX OHV Naturally Aspirated
2014
Cadillac
Escalade
Platinum Sport Utility 4-Door 6.2L 6162CC 376Cu. In. V8 GAS OHV Naturally Aspirated
2014
Cadillac
Escalade
Premium Sport Utility 4-Door 6.2L 6162CC 376Cu. In. V8 FLEX OHV Naturally Aspirated
2014
Chevrolet
Camaro
LS Coupe 2-Door 3.6L 3564CC 217Cu. In. V6 GAS DOHC Naturally Aspirated
2014
Chevrolet
Camaro
LT Convertible 2-Door 3.6L 3564CC 217Cu. In. V6 GAS DOHC Naturally Aspirated
2014
Chevrolet
Camaro
LT Coupe 2-Door 3.6L 3564CC 217Cu. In. V6 GAS DOHC Naturally Aspirated
2014
Chevrolet
Camaro
SS Convertible 2-Door 6.2L 6162CC 376Cu. In. V8 GAS OHV Naturally Aspirated
2014
Chevrolet
Camaro
SS Coupe 2-Door 6.2L 6162CC 376Cu. In. V8 GAS OHV Naturally Aspirated
2014
Chevrolet
Camaro
Z/28 Coupe 2-Door 7.0L 7011CC 427Cu. In. V8 GAS OHV Naturally Aspirated
2014
Chevrolet
Camaro
ZL1 Convertible 2-Door 6.2L 6162CC 376Cu. In. V8 GAS OHV Supercharged
2014
Chevrolet
Camaro
ZL1 Coupe 2-Door 6.2L 6162CC 376Cu. In. V8 GAS OHV Supercharged
2014
Chevrolet
Caprice
PPV Sedan 4-Door 3.6L 3564CC 217Cu. In. V6 FLEX DOHC Naturally Aspirated
2014
Chevrolet
Caprice
PPV Sedan 4-Door 6.0L 5967CC 364Cu. In. V8 FLEX OHV Naturally Aspirated
2014
Chevrolet
Silverado 2500
Base Crew Cab Pickup 4-Door 5.3L 5328CC 325Cu. In. V8 GAS OHV Naturally Aspirated
2014
Chevrolet
Silverado 2500
Base Extended Cab Pickup 4-Door 5.3L 5328CC 325Cu. In. V8 GAS OHV Naturally Aspirated
2014
Chevrolet
Silverado 2500
Base Standard Cab Pickup 2-Door 5.3L 5328CC 325Cu. In. V8 GAS OHV Naturally Aspirated
2014
Chevrolet
SS
Base Sedan 4-Door 6.2L 6162CC 376Cu. In. V8 GAS OHV Naturally Aspirated
2014
Chevrolet
Suburban
LT Sport Utility 4-Door 5.3L 5328CC 325Cu. In. V8 GAS OHV Naturally Aspirated
2014
Chevrolet
Tahoe
LS Sport Utility 4-Door 5.3L 5328CC 325Cu. In. V8 FLEX OHV Naturally Aspirated
2014
Chevrolet
Tahoe
LT Sport Utility 4-Door 5.3L 5328CC 325Cu. In. V8 FLEX OHV Naturally Aspirated
2014
Chevrolet
Tahoe
LT Sport Utility 4-Door 5.3L 5328CC 325Cu. In. V8 GAS OHV Naturally Aspirated
2014
Chevrolet
Tahoe
LTZ Sport Utility 4-Door 5.3L 5328CC 325Cu. In. V8 FLEX OHV Naturally Aspirated
2014
Chevrolet
Tahoe
PPV Sport Utility 4-Door 5.3L 5328CC 325Cu. In. V8 FLEX OHV Naturally Aspirated
2014
Chevrolet
Tahoe
SSV Sport Utility 4-Door 5.3L 5328CC 325Cu. In. V8 FLEX OHV Naturally Aspirated
2014
GMC
Yukon
Denali Sport Utility 4-Door 6.2L 6162CC 376Cu. In. V8 FLEX OHV Naturally Aspirated
2014
GMC
Yukon
Denali Sport Utility 4-Door 6.2L 6162CC 376Cu. In. V8 GAS OHV Naturally Aspirated
2014
GMC
Yukon
SLE Sport Utility 4-Door 5.3L 5328CC 325Cu. In. V8 FLEX OHV Naturally Aspirated
2014
GMC
Yukon
SLT Sport Utility 4-Door 5.3L 5328CC 325Cu. In. V8 FLEX OHV Naturally Aspirated
2013
Cadillac
CTS
Base Coupe 2-Door 3.0L 182Cu. In. V6 GAS DOHC Naturally Aspirated
2013
Cadillac
CTS
Base Coupe 2-Door 3.6L 3564CC 217Cu. In. V6 FLEX DOHC Naturally Aspirated
2013
Cadillac
CTS
Base Sedan 4-Door 3.0L 182Cu. In. V6 GAS DOHC Naturally Aspirated
2013
Cadillac
CTS
Base Sedan 4-Door 3.6L 3564CC 217Cu. In. V6 FLEX DOHC Naturally Aspirated
2013
Cadillac
CTS
Base Wagon 4-Door 3.0L 182Cu. In. V6 GAS DOHC Naturally Aspirated
2013
Cadillac
CTS
Base Wagon 4-Door 3.6L 3564CC 217Cu. In. V6 FLEX DOHC Naturally Aspirated
2013
Cadillac
CTS
Luxury Sedan 4-Door 3.0L 182Cu. In. V6 GAS DOHC Naturally Aspirated
2013
Cadillac
CTS
Luxury Wagon 4-Door 3.0L 182Cu. In. V6 GAS DOHC Naturally Aspirated
2013
Cadillac
CTS
Performance Coupe 2-Door 3.6L 3564CC 217Cu. In. V6 FLEX DOHC Naturally Aspirated
2013
Cadillac
CTS
Performance Sedan 4-Door 3.6L 3564CC 217Cu. In. V6 FLEX DOHC Naturally Aspirated
2013
Cadillac
CTS
Performance Wagon 4-Door 3.6L 3564CC 217Cu. In. V6 FLEX DOHC Naturally Aspirated
2013
Cadillac
CTS
Premium Coupe 2-Door 3.0L 2994CC 183Cu. In. V6 GAS DOHC Naturally Aspirated
2013
Cadillac
CTS
Premium Coupe 2-Door 3.6L 3564CC 217Cu. In. V6 FLEX DOHC Naturally Aspirated
2013
Cadillac
CTS
Premium Coupe 2-Door 3.6L 3564CC 217Cu. In. V6 GAS DOHC Naturally Aspirated
2013
Cadillac
CTS
Premium Sedan 4-Door 3.0L 2994CC 183Cu. In. V6 GAS DOHC Naturally Aspirated
2013
Cadillac
CTS
Premium Sedan 4-Door 3.6L 3564CC 217Cu. In. V6 FLEX DOHC Naturally Aspirated
2013
Cadillac
CTS
Premium Sedan 4-Door 3.6L 3564CC 217Cu. In. V6 GAS DOHC Naturally Aspirated
2013
Cadillac
CTS
Premium Wagon 4-Door 3.6L 3564CC 217Cu. In. V6 FLEX DOHC Naturally Aspirated
2013
Cadillac
CTS
V Coupe 2-Door 6.2L 6162CC 376Cu. In. V8 GAS OHV Supercharged
2013
Cadillac
CTS
V Luxury Coupe 2-Door 6.2L 6162CC 376Cu. In. V8 GAS OHV Supercharged
2013
Cadillac
CTS
V Premium Black Diamond Coupe 2-Door 6.2L 6162CC 376Cu. In. V8 GAS OHV Supercharged
2013
Cadillac
CTS
V Premium Black Diamond Sedan 4-Door 6.2L 6162CC 376Cu. In. V8 GAS OHV Supercharged
2013
Cadillac
CTS
V Sedan 4-Door 6.2L 6162CC 376Cu. In. V8 GAS OHV Supercharged
2013
Cadillac
CTS
V Wagon 4-Door 6.2L 6162CC 376Cu. In. V8 GAS OHV Supercharged
2013
Cadillac
Escalade
Base Sport Utility 4-Door 6.2L 6162CC 376Cu. In. V8 FLEX OHV Naturally Aspirated
2013
Cadillac
Escalade
Hybrid Platinum Sport Utility 4-Door 6.0L 5967CC 364Cu. In. V8 ELECTRIC/FLEX OHV Naturally Aspirated
2013
Cadillac
Escalade
Hybrid Sport Utility 4-Door 6.0L 5967CC 364Cu. In. V8 ELECTRIC/FLEX OHV Naturally Aspirated
2013
Cadillac
Escalade
Luxury Sport Utility 4-Door 6.2L 6162CC 376Cu. In. V8 FLEX OHV Naturally Aspirated
2013
Cadillac
Escalade
Platinum Sport Utility 4-Door 6.2L 6162CC 376Cu. In. V8 FLEX OHV Naturally Aspirated
2013
Cadillac
Escalade
Platinum Sport Utility 4-Door 6.2L 6162CC 376Cu. In. V8 GAS OHV Naturally Aspirated
2013
Cadillac
Escalade
Premium Sport Utility 4-Door 6.2L 6162CC 376Cu. In. V8 FLEX OHV Naturally Aspirated
2013
Chevrolet
Avalanche
Base Crew Cab Pickup 4-Door 5.3L 5328CC 325Cu. In. V8 FLEX OHV Naturally Aspirated
2013
Chevrolet
Avalanche
Black Diamond LS Crew Cab Pickup 4-Door 5.3L 5328CC 325Cu. In. V8 FLEX OHV Naturally Aspirated
2013
Chevrolet
Avalanche
Black Diamond LT Crew Cab Pickup 4-Door 5.3L 5328CC 325Cu. In. V8 FLEX OHV Naturally Aspirated
2013
Chevrolet
Avalanche
Black Diamond LTZ Crew Cab Pickup 4-Door 5.3L 5328CC 325Cu. In. V8 FLEX OHV Naturally Aspirated
2013
Chevrolet
Camaro
LS Coupe 2-Door 3.6L 3564CC 217Cu. In. V6 GAS DOHC Naturally Aspirated
2013
Chevrolet
Camaro
LT Convertible 2-Door 3.6L 3564CC 217Cu. In. V6 GAS DOHC Naturally Aspirated
2013
Chevrolet
Camaro
LT Coupe 2-Door 3.6L 3564CC 217Cu. In. V6 GAS DOHC Naturally Aspirated
2013
Chevrolet
Camaro
SS Convertible 2-Door 6.2L 6162CC 376Cu. In. V8 GAS OHV Naturally Aspirated
2013
Chevrolet
Camaro
SS Coupe 2-Door 6.2L 6162CC 376Cu. In. V8 GAS OHV Naturally Aspirated
2013
Chevrolet
Camaro
ZL1 Convertible 2-Door 6.2L 6162CC 376Cu. In. V8 GAS OHV Supercharged
2013
Chevrolet
Camaro
ZL1 Coupe 2-Door 6.2L 6162CC 376Cu. In. V8 GAS OHV Supercharged
2013
Chevrolet
Caprice
PPV Sedan 4-Door 3.6L 3564CC 217Cu. In. V6 FLEX DOHC Naturally Aspirated
2013
Chevrolet
Caprice
PPV Sedan 4-Door 6.0L 5967CC 364Cu. In. V8 FLEX OHV Naturally Aspirated
2013
Chevrolet
Corvette
427 Convertible 2-Door 7.0L 7011CC 427Cu. In. V8 GAS OHV Naturally Aspirated
2013
Chevrolet
Corvette
Base Convertible 2-Door 6.2L 6162CC 376Cu. In. V8 GAS OHV Naturally Aspirated
2013
Chevrolet
Corvette
Base Coupe 2-Door 6.2L 6162CC 376Cu. In. V8 GAS OHV Naturally Aspirated
2013
Chevrolet
Corvette
Grand Sport Convertible 2-Door 6.2L 6162CC 376Cu. In. V8 GAS OHV Naturally Aspirated
2013
Chevrolet
Corvette
Grand Sport Coupe 2-Door 6.2L 6162CC 376Cu. In. V8 GAS OHV Naturally Aspirated
2013
Chevrolet
Corvette
LT Convertible 2-Door 6.2L 6200CC 378Cu. In. V8 GAS OHV Naturally Aspirated
2013
Chevrolet
Corvette
LT Coupe 2-Door 6.2L 6200CC 378Cu. In. V8 GAS OHV Naturally Aspirated
2013
Chevrolet
Corvette
Z06 Coupe 2-Door 7.0L 7011CC 427Cu. In. V8 GAS OHV Naturally Aspirated
2013
Chevrolet
Corvette
ZR1 Coupe 2-Door 6.2L 6162CC 376Cu. In. V8 GAS OHV Supercharged
2013
Chevrolet
Silverado 1500
Base Standard Cab Pickup 2-Door 4.3L 4300CC 262Cu. In. V6 GAS OHV Naturally Aspirated
2013
Chevrolet
Silverado 1500
Hybrid Crew Cab Pickup 4-Door 6.0L 5967CC 364Cu. In. V8 ELECTRIC/FLEX OHV Naturally Aspirated
2013
Chevrolet
Silverado 1500
LS Crew Cab Pickup 4-Door 4.8L 294Cu. In. V8 FLEX OHV Naturally Aspirated
2013
Chevrolet
Silverado 1500
LS Crew Cab Pickup 4-Door 5.3L 5328CC 325Cu. In. V8 FLEX OHV Naturally Aspirated
2013
Chevrolet
Silverado 1500
LS Extended Cab Pickup 4-Door 4.8L 294Cu. In. V8 FLEX OHV Naturally Aspirated
2013
Chevrolet
Silverado 1500
LS Extended Cab Pickup 4-Door 5.3L 5328CC 325Cu. In. V8 FLEX OHV Naturally Aspirated
2013
Chevrolet
Silverado 1500
LT Crew Cab Pickup 4-Door 4.8L 294Cu. In. V8 FLEX OHV Naturally Aspirated
2013
Chevrolet
Silverado 1500
LT Crew Cab Pickup 4-Door 5.3L 5328CC 325Cu. In. V8 FLEX OHV Naturally Aspirated
2013
Chevrolet
Silverado 1500
LT Crew Cab Pickup 4-Door 6.2L 6162CC 376Cu. In. V8 FLEX OHV Naturally Aspirated
2013
Chevrolet
Silverado 1500
LT Extended Cab Pickup 4-Door 4.8L 294Cu. In. V8 FLEX OHV Naturally Aspirated
2013
Chevrolet
Silverado 1500
LT Extended Cab Pickup 4-Door 5.3L 5328CC 325Cu. In. V8 FLEX OHV Naturally Aspirated
2013
Chevrolet
Silverado 1500
LT Extended Cab Pickup 4-Door 6.2L 6162CC 376Cu. In. V8 FLEX OHV Naturally Aspirated
2013
Chevrolet
Silverado 1500
LT Standard Cab Pickup 2-Door 4.8L 294Cu. In. V8 FLEX OHV Naturally Aspirated
2013
Chevrolet
Silverado 1500
LT Standard Cab Pickup 2-Door 5.3L 5328CC 325Cu. In. V8 FLEX OHV Naturally Aspirated
2013
Chevrolet
Silverado 1500
LT Standard Cab Pickup 2-Door 6.2L 6162CC 376Cu. In. V8 FLEX OHV Naturally Aspirated
2013
Chevrolet
Silverado 1500
LTZ Crew Cab Pickup 4-Door 5.3L 5328CC 325Cu. In. V8 FLEX OHV Naturally Aspirated
2013
Chevrolet
Silverado 1500
LTZ Crew Cab Pickup 4-Door 6.2L 6162CC 376Cu. In. V8 FLEX OHV Naturally Aspirated
2013
Chevrolet
Silverado 1500
LTZ Extended Cab Pickup 4-Door 5.3L 5328CC 325Cu. In. V8 FLEX OHV Naturally Aspirated
2013
Chevrolet
Silverado 1500
LTZ Extended Cab Pickup 4-Door 6.2L 6162CC 376Cu. In. V8 FLEX OHV Naturally Aspirated
2013
Chevrolet
Silverado 1500
WT Crew Cab Pickup 4-Door 4.3L 4293CC 262Cu. In. V6 GAS OHV Naturally Aspirated
2013
Chevrolet
Silverado 1500
WT Crew Cab Pickup 4-Door 4.8L 294Cu. In. V8 FLEX OHV Naturally Aspirated
2013
Chevrolet
Silverado 1500
WT Crew Cab Pickup 4-Door 5.3L 5328CC 325Cu. In. V8 FLEX OHV Naturally Aspirated
2013
Chevrolet
Silverado 1500
WT Extended Cab Pickup 4-Door 4.3L 4293CC 262Cu. In. V6 GAS OHV Naturally Aspirated
2013
Chevrolet
Silverado 1500
WT Extended Cab Pickup 4-Door 4.8L 294Cu. In. V8 FLEX OHV Naturally Aspirated
2013
Chevrolet
Silverado 1500
WT Extended Cab Pickup 4-Door 5.3L 5328CC 325Cu. In. V8 FLEX OHV Naturally Aspirated
2013
Chevrolet
Silverado 1500
WT Standard Cab Pickup 2-Door 4.3L 4293CC 262Cu. In. V6 GAS OHV Naturally Aspirated
2013
Chevrolet
Silverado 1500
WT Standard Cab Pickup 2-Door 4.8L 294Cu. In. V8 FLEX OHV Naturally Aspirated
2013
Chevrolet
Silverado 1500
WT Standard Cab Pickup 2-Door 5.3L 5328CC 325Cu. In. V8 FLEX OHV Naturally Aspirated
2013
Chevrolet
Silverado 1500
XFE Crew Cab Pickup 4-Door 5.3L 5328CC 325Cu. In. V8 FLEX OHV Naturally Aspirated
2013
Chevrolet
Silverado 2500
LS Crew Cab Pickup 4-Door 4.8L 294Cu. In. V8 GAS OHV Naturally Aspirated
2013
Chevrolet
Silverado 2500
LS Crew Cab Pickup 4-Door 5.3L 5328CC 325Cu. In. V8 GAS OHV Naturally Aspirated
2013
Chevrolet
Silverado 2500
LS Extended Cab Pickup 4-Door 4.8L 294Cu. In. V8 GAS OHV Naturally Aspirated
2013
Chevrolet
Silverado 2500
LS Extended Cab Pickup 4-Door 5.3L 5328CC 325Cu. In. V8 GAS OHV Naturally Aspirated
2013
Chevrolet
Silverado 2500
LS Standard Cab Pickup 2-Door 4.8L 294Cu. In. V8 GAS OHV Naturally Aspirated
2013
Chevrolet
Silverado 2500
LS Standard Cab Pickup 2-Door 5.3L 5328CC 325Cu. In. V8 GAS OHV Naturally Aspirated
2013
Chevrolet
Silverado 3500
Base Cab & Chassis 2-Door 6.0L 5967CC 364Cu. In. V8 GAS OHV Naturally Aspirated
2013
Chevrolet
Tahoe
Hybrid Sport Utility 4-Door 6.0L 5967CC 364Cu. In. V8 ELECTRIC/FLEX OHV Naturally Aspirated
2013
Chevrolet
Tahoe
LS Sport Utility 4-Door 5.3L 5328CC 325Cu. In. V8 FLEX OHV Naturally Aspirated
2013
Chevrolet
Tahoe
LT Sport Utility 4-Door 5.3L 5328CC 325Cu. In. V8 FLEX OHV Naturally Aspirated
2013
Chevrolet
Tahoe
LT Sport Utility 4-Door 5.3L 5328CC 325Cu. In. V8 GAS OHV Naturally Aspirated
2013
Chevrolet
Tahoe
LTZ Sport Utility 4-Door 5.3L 5328CC 325Cu. In. V8 FLEX OHV Naturally Aspirated
2013
Chevrolet
Tahoe
PPV Sport Utility 4-Door 5.3L 5328CC 325Cu. In. V8 FLEX OHV Naturally Aspirated
2013
Chevrolet
Tahoe
SSV Sport Utility 4-Door 5.3L 5328CC 325Cu. In. V8 FLEX OHV Naturally Aspirated
2013
GMC
Sierra 1500
Denali Crew Cab Pickup 4-Door 6.2L 6162CC 376Cu. In. V8 FLEX OHV Naturally Aspirated
2013
GMC
Sierra 1500
Hybrid Crew Cab Pickup 4-Door 6.0L 5967CC 364Cu. In. V8 ELECTRIC/FLEX OHV Naturally Aspirated
2013
GMC
Sierra 1500
SL Crew Cab Pickup 4-Door 4.8L 294Cu. In. V8 FLEX OHV Naturally Aspirated
2013
GMC
Sierra 1500
SL Crew Cab Pickup 4-Door 5.3L 5328CC 325Cu. In. V8 FLEX OHV Naturally Aspirated
2013
GMC
Sierra 1500
SL Extended Cab Pickup 4-Door 4.8L 294Cu. In. V8 FLEX OHV Naturally Aspirated
2013
GMC
Sierra 1500
SL Extended Cab Pickup 4-Door 5.3L 5328CC 325Cu. In. V8 FLEX OHV Naturally Aspirated
2013
GMC
Sierra 1500
SLE Crew Cab Pickup 4-Door 4.8L 294Cu. In. V8 FLEX OHV Naturally Aspirated
2013
GMC
Sierra 1500
SLE Crew Cab Pickup 4-Door 5.3L 5328CC 325Cu. In. V8 FLEX OHV Naturally Aspirated
2013
GMC
Sierra 1500
SLE Crew Cab Pickup 4-Door 6.2L 6162CC 376Cu. In. V8 FLEX OHV Naturally Aspirated
2013
GMC
Sierra 1500
SLE Extended Cab Pickup 4-Door 4.8L 294Cu. In. V8 FLEX OHV Naturally Aspirated
2013
GMC
Sierra 1500
SLE Extended Cab Pickup 4-Door 5.3L 5328CC 325Cu. In. V8 FLEX OHV Naturally Aspirated
2013
GMC
Sierra 1500
SLE Extended Cab Pickup 4-Door 6.2L 6162CC 376Cu. In. V8 FLEX OHV Naturally Aspirated
2013
GMC
Sierra 1500
SLE Standard Cab Pickup 2-Door 4.8L 294Cu. In. V8 FLEX OHV Naturally Aspirated
2013
GMC
Sierra 1500
SLE Standard Cab Pickup 2-Door 5.3L 5328CC 325Cu. In. V8 FLEX OHV Naturally Aspirated
2013
GMC
Sierra 1500
SLE Standard Cab Pickup 2-Door 6.2L 6162CC 376Cu. In. V8 FLEX OHV Naturally Aspirated
2013
GMC
Sierra 1500
SLT Crew Cab Pickup 4-Door 5.3L 5328CC 325Cu. In. V8 FLEX OHV Naturally Aspirated
2013
GMC
Sierra 1500
SLT Crew Cab Pickup 4-Door 6.2L 6162CC 376Cu. In. V8 FLEX OHV Naturally Aspirated
2013
GMC
Sierra 1500
SLT Extended Cab Pickup 4-Door 5.3L 5328CC 325Cu. In. V8 FLEX OHV Naturally Aspirated
2013
GMC
Sierra 1500
SLT Extended Cab Pickup 4-Door 6.2L 6162CC 376Cu. In. V8 FLEX OHV Naturally Aspirated
2013
GMC
Sierra 1500
WT Crew Cab Pickup 4-Door 4.3L 262Cu. In. V6 GAS OHV Naturally Aspirated
2013
GMC
Sierra 1500
WT Crew Cab Pickup 4-Door 4.8L 294Cu. In. V8 FLEX OHV Naturally Aspirated
2013
GMC
Sierra 1500
WT Crew Cab Pickup 4-Door 5.3L 5328CC 325Cu. In. V8 FLEX OHV Naturally Aspirated
2013
GMC
Sierra 1500
WT Extended Cab Pickup 4-Door 4.3L 262Cu. In. V6 GAS OHV Naturally Aspirated
2013
GMC
Sierra 1500
WT Extended Cab Pickup 4-Door 4.8L 294Cu. In. V8 FLEX OHV Naturally Aspirated
2013
GMC
Sierra 1500
WT Extended Cab Pickup 4-Door 5.3L 5328CC 325Cu. In. V8 FLEX OHV Naturally Aspirated
2013
GMC
Sierra 1500
WT Standard Cab Pickup 2-Door 4.3L 262Cu. In. V6 GAS OHV Naturally Aspirated
2013
GMC
Sierra 1500
WT Standard Cab Pickup 2-Door 4.8L 294Cu. In. V8 FLEX OHV Naturally Aspirated
2013
GMC
Sierra 1500
WT Standard Cab Pickup 2-Door 5.3L 5328CC 325Cu. In. V8 FLEX OHV Naturally Aspirated
2013
GMC
Sierra 1500
XFE Crew Cab Pickup 4-Door 5.3L 5328CC 325Cu. In. V8 FLEX OHV Naturally Aspirated
2013
GMC
Yukon
Denali Hybrid Sport Utility 4-Door 6.0L 5967CC 364Cu. In. V8 ELECTRIC/FLEX OHV Naturally Aspirated
2013
GMC
Yukon
Denali Sport Utility 4-Door 6.2L 6162CC 376Cu. In. V8 FLEX OHV Naturally Aspirated
2013
GMC
Yukon
Denali Sport Utility 4-Door 6.2L 6162CC 376Cu. In. V8 GAS OHV Naturally Aspirated
2013
GMC
Yukon
Hybrid Sport Utility 4-Door 6.0L 5967CC 364Cu. In. V8 ELECTRIC/FLEX OHV Naturally Aspirated
2013
GMC
Yukon
SLE Sport Utility 4-Door 5.3L 5328CC 325Cu. In. V8 FLEX OHV Naturally Aspirated
2013
GMC
Yukon
SLT Sport Utility 4-Door 5.3L 5328CC 325Cu. In. V8 FLEX OHV Naturally Aspirated
2012
Cadillac
CTS
3.0L Coupe 2-Door 3.0L 182Cu. In. V6 GAS DOHC Naturally Aspirated
2012
Cadillac
CTS
3.0L Sedan 4-Door 3.0L 182Cu. In. V6 GAS DOHC Naturally Aspirated
2012
Cadillac
CTS
3.0L Wagon 4-Door 3.0L 182Cu. In. V6 GAS DOHC Naturally Aspirated
2012
Cadillac
CTS
3.6L Coupe 2-Door 3.6L 3564CC 217Cu. In. V6 GAS DOHC Naturally Aspirated
2012
Cadillac
CTS
3.6L Sedan 4-Door 3.6L 3564CC 217Cu. In. V6 GAS DOHC Naturally Aspirated
2012
Cadillac
CTS
3.6L Wagon 4-Door 3.6L 3564CC 217Cu. In. V6 GAS DOHC Naturally Aspirated
2012
Cadillac
CTS
Base Coupe 2-Door 3.0L 182Cu. In. V6 GAS DOHC Naturally Aspirated
2012
Cadillac
CTS
Base Coupe 2-Door 3.6L 3564CC 217Cu. In. V6 GAS DOHC Naturally Aspirated
2012
Cadillac
CTS
Base Sedan 4-Door 3.0L 182Cu. In. V6 GAS DOHC Naturally Aspirated
2012
Cadillac
CTS
Base Sedan 4-Door 3.0L 2994CC 183Cu. In. V6 GAS DOHC Naturally Aspirated
2012
Cadillac
CTS
Base Sedan 4-Door 3.6L 3564CC 217Cu. In. V6 GAS DOHC Naturally Aspirated
2012
Cadillac
CTS
Base Wagon 4-Door 3.0L 182Cu. In. V6 GAS DOHC Naturally Aspirated
2012
Cadillac
CTS
Base Wagon 4-Door 3.6L 3564CC 217Cu. In. V6 GAS DOHC Naturally Aspirated
2012
Cadillac
CTS
Coupe Coupe 2-Door 3.6L 3564CC 217Cu. In. V6 GAS DOHC Naturally Aspirated
2012
Cadillac
CTS
Luxury Coupe 2-Door 6.2L 6162CC 376Cu. In. V8 GAS OHV Supercharged
2012
Cadillac
CTS
Luxury Sedan 4-Door 3.0L 182Cu. In. V6 GAS DOHC Naturally Aspirated
2012
Cadillac
CTS
Luxury Sedan 4-Door 6.2L 6162CC 376Cu. In. V8 GAS OHV Supercharged
2012
Cadillac
CTS
Luxury Wagon 4-Door 3.0L 182Cu. In. V6 GAS DOHC Naturally Aspirated
2012
Cadillac
CTS
Performance Coupe 2-Door 3.6L 3564CC 217Cu. In. V6 GAS DOHC Naturally Aspirated
2012
Cadillac
CTS
Performance Sedan 4-Door 3.6L 3564CC 217Cu. In. V6 GAS DOHC Naturally Aspirated
2012
Cadillac
CTS
Performance Wagon 4-Door 3.6L 3564CC 217Cu. In. V6 GAS DOHC Naturally Aspirated
2012
Cadillac
CTS
Premium Coupe 2-Door 3.0L 2994CC 183Cu. In. V6 GAS DOHC Naturally Aspirated
2012
Cadillac
CTS
Premium Coupe 2-Door 3.6L 3564CC 217Cu. In. V6 GAS DOHC Naturally Aspirated
2012
Cadillac
CTS
Premium Sedan 4-Door 3.0L 2994CC 183Cu. In. V6 GAS DOHC Naturally Aspirated
2012
Cadillac
CTS
Premium Sedan 4-Door 3.6L 3564CC 217Cu. In. V6 GAS DOHC Naturally Aspirated
2012
Cadillac
CTS
Premium Wagon 4-Door 3.6L 3564CC 217Cu. In. V6 GAS DOHC Naturally Aspirated
2012
Cadillac
CTS
V Black Diamond Coupe 2-Door 6.2L 6162CC 376Cu. In. V8 GAS OHV Supercharged
2012
Cadillac
CTS
V Black Diamond Sedan 4-Door 6.2L 6162CC 376Cu. In. V8 GAS OHV Supercharged
2012
Cadillac
CTS
V Coupe 2-Door 6.2L 6162CC 376Cu. In. V8 GAS OHV Supercharged
2012
Cadillac
CTS
V Sedan 4-Door 6.2L 6162CC 376Cu. In. V8 GAS OHV Supercharged
2012
Cadillac
CTS
V Wagon 4-Door 6.2L 6162CC 376Cu. In. V8 GAS OHV Supercharged
2012
Cadillac
Escalade
Base Sport Utility 4-Door 6.2L 6162CC 376Cu. In. V8 FLEX OHV Naturally Aspirated
2012
Cadillac
Escalade
Hybrid Platinum Sport Utility 4-Door 6.0L 5967CC 364Cu. In. V8 ELECTRIC/FLEX OHV Naturally Aspirated
2012
Cadillac
Escalade
Hybrid Sport Utility 4-Door 6.0L 5967CC 364Cu. In. V8 ELECTRIC/FLEX OHV Naturally Aspirated
2012
Cadillac
Escalade
Luxury Sport Utility 4-Door 6.2L 6162CC 376Cu. In. V8 FLEX OHV Naturally Aspirated
2012
Cadillac
Escalade
Platinum Sport Utility 4-Door 6.2L 6162CC 376Cu. In. V8 FLEX OHV Naturally Aspirated
2012
Cadillac
Escalade
Platinum Sport Utility 4-Door 6.2L 6162CC 376Cu. In. V8 GAS OHV Naturally Aspirated
2012
Cadillac
Escalade
Premium Sport Utility 4-Door 6.2L 6162CC 376Cu. In. V8 FLEX OHV Naturally Aspirated
2012
Cadillac
Escalade
Special Edition Sport Utility 4-Door 6.2L 6162CC 376Cu. In. V8 GAS OHV Naturally Aspirated
2012
Chevrolet
Avalanche
Base Crew Cab Pickup 4-Door 5.3L 5328CC 325Cu. In. V8 FLEX OHV Naturally Aspirated
2012
Chevrolet
Avalanche
LS Crew Cab Pickup 4-Door 5.3L 5328CC 325Cu. In. V8 FLEX OHV Naturally Aspirated
2012
Chevrolet
Avalanche
LT Crew Cab Pickup 4-Door 5.3L 5328CC 325Cu. In. V8 FLEX OHV Naturally Aspirated
2012
Chevrolet
Avalanche
LTZ Crew Cab Pickup 4-Door 5.3L 5328CC 325Cu. In. V8 FLEX OHV Naturally Aspirated
2012
Chevrolet
Camaro
1LT Coupe 2-Door 3.6L 3564CC 217Cu. In. V6 GAS DOHC Naturally Aspirated
2012
Chevrolet
Camaro
1SS Coupe 2-Door 6.2L 6162CC 376Cu. In. V8 GAS DOHC Naturally Aspirated
2012
Chevrolet
Camaro
2SS Convertible 2-Door 6.2L 6162CC 376Cu. In. V8 GAS DOHC Naturally Aspirated
2012
Chevrolet
Camaro
2SS Coupe 2-Door 6.2L 6162CC 376Cu. In. V8 GAS DOHC Naturally Aspirated
2012
Chevrolet
Camaro
LS Coupe 2-Door 3.6L 3564CC 217Cu. In. V6 GAS DOHC Naturally Aspirated
2012
Chevrolet
Camaro
LT Convertible 2-Door 3.6L 3564CC 217Cu. In. V6 GAS DOHC Naturally Aspirated
2012
Chevrolet
Camaro
LT Coupe 2-Door 3.6L 3564CC 217Cu. In. V6 GAS DOHC Naturally Aspirated
2012
Chevrolet
Camaro
SS Convertible 2-Door 6.2L 6162CC 376Cu. In. V8 GAS OHV Naturally Aspirated
2012
Chevrolet
Camaro
SS Coupe 2-Door 6.2L 6162CC 376Cu. In. V8 GAS OHV Naturally Aspirated
2012
Chevrolet
Camaro
ZL1 Coupe 2-Door 6.2L 6162CC 376Cu. In. V8 GAS OHV Supercharged
2012
Chevrolet
Caprice
PPV Sedan 4-Door 3.6L 3564CC 217Cu. In. V6 FLEX DOHC Naturally Aspirated
2012
Chevrolet
Caprice
PPV Sedan 4-Door 6.0L 5967CC 364Cu. In. V8 FLEX OHV Naturally Aspirated
2012
Chevrolet
Colorado
Base Crew Cab Pickup 4-Door 2.9L 2921CC 178Cu. In. l4 GAS DOHC Naturally Aspirated
2012
Chevrolet
Colorado
Base Crew Cab Pickup 4-Door 3.7L 3654CC 223Cu. In. l5 GAS DOHC Naturally Aspirated
2012
Chevrolet
Colorado
LT Crew Cab Pickup 4-Door 2.9L 2921CC 178Cu. In. l4 GAS DOHC Naturally Aspirated
2012
Chevrolet
Colorado
LT Crew Cab Pickup 4-Door 3.7L 3654CC 223Cu. In. l5 GAS DOHC Naturally Aspirated
2012
Chevrolet
Colorado
LT Crew Cab Pickup 4-Door 5.3L 5328CC 325Cu. In. V8 GAS OHV Naturally Aspirated
2012
Chevrolet
Colorado
LT Extended Cab Pickup 4-Door 2.9L 2921CC 178Cu. In. l4 GAS DOHC Naturally Aspirated
2012
Chevrolet
Colorado
LT Extended Cab Pickup 4-Door 3.7L 3654CC 223Cu. In. l5 GAS DOHC Naturally Aspirated
2012
Chevrolet
Colorado
LT Extended Cab Pickup 4-Door 5.3L 5328CC 325Cu. In. V8 GAS OHV Naturally Aspirated
2012
Chevrolet
Colorado
LT Standard Cab Pickup 2-Door 2.9L 2921CC 178Cu. In. l4 GAS DOHC Naturally Aspirated
2012
Chevrolet
Colorado
LT Standard Cab Pickup 2-Door 3.7L 3654CC 223Cu. In. l5 GAS DOHC Naturally Aspirated
2012
Chevrolet
Colorado
LT Standard Cab Pickup 2-Door 5.3L 5328CC 325Cu. In. V8 GAS OHV Naturally Aspirated
2012
Chevrolet
Colorado
WT Cab & Chassis 2-Door 2.9L 2921CC 178Cu. In. l4 GAS DOHC Naturally Aspirated
2012
Chevrolet
Colorado
WT Cab & Chassis 2-Door 3.7L 3654CC 223Cu. In. l5 GAS DOHC Naturally Aspirated
2012
Chevrolet
Colorado
WT Extended Cab Pickup 4-Door 2.9L 2921CC 178Cu. In. l4 GAS DOHC Naturally Aspirated
2012
Chevrolet
Colorado
WT Extended Cab Pickup 4-Door 3.7L 3654CC 223Cu. In. l5 GAS DOHC Naturally Aspirated
2012
Chevrolet
Colorado
WT Standard Cab Pickup 2-Door 2.9L 2921CC 178Cu. In. l4 GAS DOHC Naturally Aspirated
2012
Chevrolet
Colorado
WT Standard Cab Pickup 2-Door 3.7L 3654CC 223Cu. In. l5 GAS DOHC Naturally Aspirated
2012
Chevrolet
Corvette
Base Convertible 2-Door 6.2L 6162CC 376Cu. In. V8 GAS OHV Naturally Aspirated
2012
Chevrolet
Corvette
Base Convertible 2-Door 6.2L 6200CC 378Cu. In. V8 GAS OHV Naturally Aspirated
2012
Chevrolet
Corvette
Base Coupe 2-Door 6.2L 6162CC 376Cu. In. V8 GAS OHV Naturally Aspirated
2012
Chevrolet
Corvette
Base Coupe 2-Door 6.2L 6200CC 378Cu. In. V8 GAS OHV Naturally Aspirated
2012
Chevrolet
Corvette
Grand Sport Convertible 2-Door 6.2L 6162CC 376Cu. In. V8 GAS OHV Naturally Aspirated
2012
Chevrolet
Corvette
Grand Sport Coupe 2-Door 6.2L 6162CC 376Cu. In. V8 GAS OHV Naturally Aspirated
2012
Chevrolet
Corvette
Z06 Coupe 2-Door 7.0L 7011CC 427Cu. In. V8 GAS OHV Naturally Aspirated
2012
Chevrolet
Corvette
ZR1 Coupe 2-Door 6.2L 6162CC 376Cu. In. V8 GAS OHV Supercharged
2012
Chevrolet
Silverado 1500
Base Standard Cab Pickup 2-Door 4.3L 4300CC 262Cu. In. V6 GAS OHV Naturally Aspirated
2012
Chevrolet
Silverado 1500
Hybrid Crew Cab Pickup 4-Door 6.0L 5967CC 364Cu. In. V8 ELECTRIC/FLEX OHV Naturally Aspirated
2012
Chevrolet
Silverado 1500
LS Crew Cab Pickup 4-Door 4.8L 294Cu. In. V8 FLEX OHV Naturally Aspirated
2012
Chevrolet
Silverado 1500
LS Crew Cab Pickup 4-Door 5.3L 5328CC 325Cu. In. V8 FLEX OHV Naturally Aspirated
2012
Chevrolet
Silverado 1500
LS Extended Cab Pickup 4-Door 4.8L 294Cu. In. V8 FLEX OHV Naturally Aspirated
2012
Chevrolet
Silverado 1500
LS Extended Cab Pickup 4-Door 5.3L 5328CC 325Cu. In. V8 FLEX OHV Naturally Aspirated
2012
Chevrolet
Silverado 1500
LT Crew Cab Pickup 4-Door 4.8L 294Cu. In. V8 FLEX OHV Naturally Aspirated
2012
Chevrolet
Silverado 1500
LT Crew Cab Pickup 4-Door 5.3L 5328CC 325Cu. In. V8 FLEX OHV Naturally Aspirated
2012
Chevrolet
Silverado 1500
LT Crew Cab Pickup 4-Door 6.2L 6162CC 376Cu. In. V8 FLEX OHV Naturally Aspirated
2012
Chevrolet
Silverado 1500
LT Extended Cab Pickup 4-Door 4.8L 294Cu. In. V8 FLEX OHV Naturally Aspirated
2012
Chevrolet
Silverado 1500
LT Extended Cab Pickup 4-Door 5.3L 5328CC 325Cu. In. V8 FLEX OHV Naturally Aspirated
2012
Chevrolet
Silverado 1500
LT Extended Cab Pickup 4-Door 6.2L 6162CC 376Cu. In. V8 FLEX OHV Naturally Aspirated
2012
Chevrolet
Silverado 1500
LT Standard Cab Pickup 2-Door 4.8L 294Cu. In. V8 FLEX OHV Naturally Aspirated
2012
Chevrolet
Silverado 1500
LT Standard Cab Pickup 2-Door 5.3L 5328CC 325Cu. In. V8 FLEX OHV Naturally Aspirated
2012
Chevrolet
Silverado 1500
LT Standard Cab Pickup 2-Door 6.2L 6162CC 376Cu. In. V8 FLEX OHV Naturally Aspirated
2012
Chevrolet
Silverado 1500
LTZ Crew Cab Pickup 4-Door 5.3L 5328CC 325Cu. In. V8 FLEX OHV Naturally Aspirated
2012
Chevrolet
Silverado 1500
LTZ Crew Cab Pickup 4-Door 6.2L 6162CC 376Cu. In. V8 FLEX OHV Naturally Aspirated
2012
Chevrolet
Silverado 1500
LTZ Extended Cab Pickup 4-Door 5.3L 5328CC 325Cu. In. V8 FLEX OHV Naturally Aspirated
2012
Chevrolet
Silverado 1500
LTZ Extended Cab Pickup 4-Door 6.2L 6162CC 376Cu. In. V8 FLEX OHV Naturally Aspirated
2012
Chevrolet
Silverado 1500
WT Crew Cab Pickup 4-Door 4.3L 262Cu. In. V6 GAS OHV Naturally Aspirated
2012
Chevrolet
Silverado 1500
WT Crew Cab Pickup 4-Door 4.8L 294Cu. In. V8 FLEX OHV Naturally Aspirated
2012
Chevrolet
Silverado 1500
WT Crew Cab Pickup 4-Door 5.3L 5328CC 325Cu. In. V8 FLEX OHV Naturally Aspirated
2012
Chevrolet
Silverado 1500
WT Extended Cab Pickup 4-Door 4.3L 262Cu. In. V6 GAS OHV Naturally Aspirated
2012
Chevrolet
Silverado 1500
WT Extended Cab Pickup 4-Door 4.8L 294Cu. In. V8 FLEX OHV Naturally Aspirated
2012
Chevrolet
Silverado 1500
WT Extended Cab Pickup 4-Door 5.3L 5328CC 325Cu. In. V8 FLEX OHV Naturally Aspirated
2012
Chevrolet
Silverado 1500
WT Standard Cab Pickup 2-Door 4.3L 262Cu. In. V6 GAS OHV Naturally Aspirated
2012
Chevrolet
Silverado 1500
WT Standard Cab Pickup 2-Door 4.8L 294Cu. In. V8 FLEX OHV Naturally Aspirated
2012
Chevrolet
Silverado 1500
WT Standard Cab Pickup 2-Door 5.3L 5328CC 325Cu. In. V8 FLEX OHV Naturally Aspirated
2012
Chevrolet
Silverado 1500
XFE Crew Cab Pickup 4-Door 5.3L 5328CC 325Cu. In. V8 FLEX OHV Naturally Aspirated
2012
Chevrolet
Silverado 2500
Base Crew Cab Pickup 4-Door 4.8L 294Cu. In. V8 GAS OHV Naturally Aspirated
2012
Chevrolet
Silverado 2500
Base Crew Cab Pickup 4-Door 5.3L 5328CC 325Cu. In. V8 GAS OHV Naturally Aspirated
2012
Chevrolet
Silverado 2500
Base Extended Cab Pickup 4-Door 4.8L 294Cu. In. V8 GAS OHV Naturally Aspirated
2012
Chevrolet
Silverado 2500
Base Extended Cab Pickup 4-Door 5.3L 5328CC 325Cu. In. V8 GAS OHV Naturally Aspirated
2012
Chevrolet
Silverado 2500
Base Standard Cab Pickup 2-Door 4.8L 294Cu. In. V8 GAS OHV Naturally Aspirated
2012
Chevrolet
Silverado 2500
Base Standard Cab Pickup 2-Door 5.3L 5328CC 325Cu. In. V8 GAS OHV Naturally Aspirated
2012
Chevrolet
Silverado 3500
Base Cab & Chassis 2-Door 6.0L 5967CC 364Cu. In. V8 GAS OHV Naturally Aspirated
2012
Chevrolet
Tahoe
Base Sport Utility 4-Door 5.3L 5328CC 325Cu. In. V8 GAS OHV Naturally Aspirated
2012
Chevrolet
Tahoe
Hybrid Sport Utility 4-Door 6.0L 5967CC 364Cu. In. V8 ELECTRIC/FLEX OHV Naturally Aspirated
2012
Chevrolet
Tahoe
LS Sport Utility 4-Door 5.3L 5328CC 325Cu. In. V8 FLEX OHV Naturally Aspirated
2012
Chevrolet
Tahoe
LT Sport Utility 4-Door 5.3L 5328CC 325Cu. In. V8 FLEX OHV Naturally Aspirated
2012
Chevrolet
Tahoe
LTZ Sport Utility 4-Door 5.3L 5328CC 325Cu. In. V8 FLEX OHV Naturally Aspirated
2012
Chevrolet
Tahoe
PPV Sport Utility 4-Door 5.3L 5328CC 325Cu. In. V8 FLEX OHV Naturally Aspirated
2012
Chevrolet
Tahoe
SSV Sport Utility 4-Door 5.3L 5328CC 325Cu. In. V8 FLEX OHV Naturally Aspirated
2012
GMC
Canyon
Base Crew Cab Pickup 4-Door 3.7L 3654CC 223Cu. In. l5 GAS DOHC Naturally Aspirated
2012
GMC
Canyon
SLE Crew Cab Pickup 4-Door 2.9L 2921CC 178Cu. In. l4 GAS DOHC Naturally Aspirated
2012
GMC
Canyon
SLE Crew Cab Pickup 4-Door 3.7L 3654CC 223Cu. In. l5 GAS DOHC Naturally Aspirated
2012
GMC
Canyon
SLE Crew Cab Pickup 4-Door 5.3L 5328CC 325Cu. In. V8 GAS OHV Naturally Aspirated
2012
GMC
Canyon
SLE Extended Cab Pickup 4-Door 2.9L 2921CC 178Cu. In. l4 GAS DOHC Naturally Aspirated
2012
GMC
Canyon
SLE Extended Cab Pickup 4-Door 3.7L 3654CC 223Cu. In. l5 GAS DOHC Naturally Aspirated
2012
GMC
Canyon
SLE Extended Cab Pickup 4-Door 5.3L 5328CC 325Cu. In. V8 GAS OHV Naturally Aspirated
2012
GMC
Canyon
SLE Standard Cab Pickup 2-Door 2.9L 2921CC 178Cu. In. l4 GAS DOHC Naturally Aspirated
2012
GMC
Canyon
SLE Standard Cab Pickup 2-Door 3.7L 3654CC 223Cu. In. l5 GAS DOHC Naturally Aspirated
2012
GMC
Canyon
SLE Standard Cab Pickup 2-Door 5.3L 5328CC 325Cu. In. V8 GAS OHV Naturally Aspirated
2012
GMC
Canyon
SLT Crew Cab Pickup 4-Door 3.7L 3654CC 223Cu. In. l5 GAS DOHC Naturally Aspirated
2012
GMC
Canyon
SLT Crew Cab Pickup 4-Door 5.3L 5328CC 325Cu. In. V8 GAS OHV Naturally Aspirated
2012
GMC
Canyon
SLT Extended Cab Pickup 4-Door 3.7L 3654CC 223Cu. In. l5 GAS DOHC Naturally Aspirated
2012
GMC
Canyon
SLT Extended Cab Pickup 4-Door 5.3L 5328CC 325Cu. In. V8 GAS OHV Naturally Aspirated
2012
GMC
Canyon
WT Extended Cab Pickup 4-Door 2.9L 2921CC 178Cu. In. l4 GAS DOHC Naturally Aspirated
2012
GMC
Canyon
WT Extended Cab Pickup 4-Door 3.7L 3654CC 223Cu. In. l5 GAS DOHC Naturally Aspirated
2012
GMC
Canyon
WT Standard Cab Pickup 2-Door 2.9L 2921CC 178Cu. In. l4 GAS DOHC Naturally Aspirated
2012
GMC
Canyon
WT Standard Cab Pickup 2-Door 3.7L 3654CC 223Cu. In. l5 GAS DOHC Naturally Aspirated
2012
GMC
Sierra 1500
Denali Crew Cab Pickup 4-Door 6.2L 6162CC 376Cu. In. V8 FLEX OHV Naturally Aspirated
2012
GMC
Sierra 1500
Hybrid Crew Cab Pickup 4-Door 6.0L 5967CC 364Cu. In. V8 ELECTRIC/FLEX OHV Naturally Aspirated
2012
GMC
Sierra 1500
SL Crew Cab Pickup 4-Door 4.8L 294Cu. In. V8 FLEX OHV Naturally Aspirated
2012
GMC
Sierra 1500
SL Crew Cab Pickup 4-Door 5.3L 5328CC 325Cu. In. V8 FLEX OHV Naturally Aspirated
2012
GMC
Sierra 1500
SL Extended Cab Pickup 4-Door 4.8L 294Cu. In. V8 FLEX OHV Naturally Aspirated
2012
GMC
Sierra 1500
SL Extended Cab Pickup 4-Door 5.3L 5328CC 325Cu. In. V8 FLEX OHV Naturally Aspirated
2012
GMC
Sierra 1500
SLE Crew Cab Pickup 4-Door 4.8L 294Cu. In. V8 FLEX OHV Naturally Aspirated
2012
GMC
Sierra 1500
SLE Crew Cab Pickup 4-Door 5.3L 5328CC 325Cu. In. V8 FLEX OHV Naturally Aspirated
2012
GMC
Sierra 1500
SLE Crew Cab Pickup 4-Door 6.2L 6162CC 376Cu. In. V8 FLEX OHV Naturally Aspirated
2012
GMC
Sierra 1500
SLE Extended Cab Pickup 4-Door 4.8L 294Cu. In. V8 FLEX OHV Naturally Aspirated
2012
GMC
Sierra 1500
SLE Extended Cab Pickup 4-Door 5.3L 5328CC 325Cu. In. V8 FLEX OHV Naturally Aspirated
2012
GMC
Sierra 1500
SLE Extended Cab Pickup 4-Door 6.2L 6162CC 376Cu. In. V8 FLEX OHV Naturally Aspirated
2012
GMC
Sierra 1500
SLE Standard Cab Pickup 2-Door 4.8L 294Cu. In. V8 FLEX OHV Naturally Aspirated
2012
GMC
Sierra 1500
SLE Standard Cab Pickup 2-Door 5.3L 5328CC 325Cu. In. V8 FLEX OHV Naturally Aspirated
2012
GMC
Sierra 1500
SLE Standard Cab Pickup 2-Door 6.2L 6162CC 376Cu. In. V8 FLEX OHV Naturally Aspirated
2012
GMC
Sierra 1500
SLT Crew Cab Pickup 4-Door 5.3L 5328CC 325Cu. In. V8 FLEX OHV Naturally Aspirated
2012
GMC
Sierra 1500
SLT Crew Cab Pickup 4-Door 6.2L 6162CC 376Cu. In. V8 FLEX OHV Naturally Aspirated
2012
GMC
Sierra 1500
SLT Extended Cab Pickup 4-Door 5.3L 5328CC 325Cu. In. V8 FLEX OHV Naturally Aspirated
2012
GMC
Sierra 1500
SLT Extended Cab Pickup 4-Door 6.2L 6162CC 376Cu. In. V8 FLEX OHV Naturally Aspirated
2012
GMC
Sierra 1500
WT Crew Cab Pickup 4-Door 4.3L 262Cu. In. V6 GAS OHV Naturally Aspirated
2012
GMC
Sierra 1500
WT Crew Cab Pickup 4-Door 4.8L 294Cu. In. V8 FLEX OHV Naturally Aspirated
2012
GMC
Sierra 1500
WT Crew Cab Pickup 4-Door 5.3L 5328CC 325Cu. In. V8 FLEX OHV Naturally Aspirated
2012
GMC
Sierra 1500
WT Extended Cab Pickup 4-Door 4.3L 262Cu. In. V6 GAS OHV Naturally Aspirated
2012
GMC
Sierra 1500
WT Extended Cab Pickup 4-Door 4.8L 294Cu. In. V8 FLEX OHV Naturally Aspirated
2012
GMC
Sierra 1500
WT Extended Cab Pickup 4-Door 5.3L 5328CC 325Cu. In. V8 FLEX OHV Naturally Aspirated
2012
GMC
Sierra 1500
WT Standard Cab Pickup 2-Door 4.3L 262Cu. In. V6 GAS OHV Naturally Aspirated
2012
GMC
Sierra 1500
WT Standard Cab Pickup 2-Door 4.8L 294Cu. In. V8 FLEX OHV Naturally Aspirated
2012
GMC
Sierra 1500
WT Standard Cab Pickup 2-Door 5.3L 5328CC 325Cu. In. V8 FLEX OHV Naturally Aspirated
2012
GMC
Sierra 1500
XFE Crew Cab Pickup 4-Door 5.3L 5328CC 325Cu. In. V8 FLEX OHV Naturally Aspirated
2012
GMC
Yukon
Base Sport Utility 4-Door 6.2L 6162CC 376Cu. In. V8 GAS OHV Naturally Aspirated
2012
GMC
Yukon
Denali Hybrid Sport Utility 4-Door 6.0L 5967CC 364Cu. In. V8 ELECTRIC/FLEX OHV Naturally Aspirated
2012
GMC
Yukon
Denali Sport Utility 4-Door 6.2L 6162CC 376Cu. In. V8 FLEX OHV Naturally Aspirated
2012
GMC
Yukon
Hybrid Sport Utility 4-Door 6.0L 5967CC 364Cu. In. V8 ELECTRIC/FLEX OHV Naturally Aspirated
2012
GMC
Yukon
SLE Sport Utility 4-Door 5.3L 5328CC 325Cu. In. V8 FLEX OHV Naturally Aspirated
2012
GMC
Yukon
SLT Sport Utility 4-Door 5.3L 5328CC 325Cu. In. V8 FLEX OHV Naturally Aspirated
2011
Cadillac
CTS
Base Coupe 2-Door 3.0L 182Cu. In. V6 GAS DOHC Naturally Aspirated
2011
Cadillac
CTS
Base Coupe 2-Door 3.6L 3564CC 217Cu. In. V6 GAS DOHC Naturally Aspirated
2011
Cadillac
CTS
Base Sedan 4-Door 3.0L 182Cu. In. V6 GAS DOHC Naturally Aspirated
2011
Cadillac
CTS
Base Sedan 4-Door 3.6L 3564CC 217Cu. In. V6 GAS DOHC Naturally Aspirated
2011
Cadillac
CTS
Base Wagon 4-Door 3.0L 182Cu. In. V6 GAS DOHC Naturally Aspirated
2011
Cadillac
CTS
Base Wagon 4-Door 3.6L 3564CC 217Cu. In. V6 GAS DOHC Naturally Aspirated
2011
Cadillac
CTS
Coupe Coupe 2-Door 3.6L 3564CC 217Cu. In. V6 GAS DOHC Naturally Aspirated
2011
Cadillac
CTS
Luxury Sedan 4-Door 3.0L 182Cu. In. V6 GAS DOHC Naturally Aspirated
2011
Cadillac
CTS
Luxury Sedan 4-Door 3.0L 2994CC 183Cu. In. V6 GAS DOHC Naturally Aspirated
2011
Cadillac
CTS
Luxury Wagon 4-Door 3.0L 182Cu. In. V6 GAS DOHC Naturally Aspirated
2011
Cadillac
CTS
Performance Coupe 2-Door 3.0L 182Cu. In. V6 GAS DOHC Naturally Aspirated
2011
Cadillac
CTS
Performance Coupe 2-Door 3.6L 3564CC 217Cu. In. V6 GAS DOHC Naturally Aspirated
2011
Cadillac
CTS
Performance Sedan 4-Door 3.0L 182Cu. In. V6 GAS DOHC Naturally Aspirated
2011
Cadillac
CTS
Performance Sedan 4-Door 3.6L 3564CC 217Cu. In. V6 GAS DOHC Naturally Aspirated
2011
Cadillac
CTS
Performance Wagon 4-Door 3.0L 182Cu. In. V6 GAS DOHC Naturally Aspirated
2011
Cadillac
CTS
Performance Wagon 4-Door 3.6L 3564CC 217Cu. In. V6 GAS DOHC Naturally Aspirated
2011
Cadillac
CTS
Premium Coupe 2-Door 3.6L 3564CC 217Cu. In. V6 GAS DOHC Naturally Aspirated
2011
Cadillac
CTS
Premium Sedan 4-Door 3.6L 3564CC 217Cu. In. V6 GAS DOHC Naturally Aspirated
2011
Cadillac
CTS
Premium Wagon 4-Door 3.6L 3564CC 217Cu. In. V6 GAS DOHC Naturally Aspirated
2011
Cadillac
CTS
V Coupe 2-Door 6.2L 6162CC 376Cu. In. V8 GAS OHV Supercharged
2011
Cadillac
CTS
V Sedan 4-Door 6.2L 6162CC 376Cu. In. V8 GAS OHV Supercharged
2011
Cadillac
CTS
V Wagon 4-Door 6.2L 6162CC 376Cu. In. V8 GAS OHV Supercharged
2011
Cadillac
Escalade
Base Sport Utility 4-Door 6.2L 6162CC 376Cu. In. V8 FLEX OHV Naturally Aspirated
2011
Cadillac
Escalade
Base Sport Utility 4-Door 6.2L 6162CC 376Cu. In. V8 GAS OHV Naturally Aspirated
2011
Cadillac
Escalade
Hybrid Platinum Sport Utility 4-Door 6.0L 5967CC 364Cu. In. V8 ELECTRIC/FLEX OHV Naturally Aspirated
2011
Cadillac
Escalade
Hybrid Sport Utility 4-Door 6.0L 5967CC 364Cu. In. V8 ELECTRIC/FLEX OHV Naturally Aspirated
2011
Cadillac
Escalade
Luxury Sport Utility 4-Door 6.2L 6162CC 376Cu. In. V8 FLEX OHV Naturally Aspirated
2011
Cadillac
Escalade
Platinum Sport Utility 4-Door 6.2L 6162CC 376Cu. In. V8 FLEX OHV Naturally Aspirated
2011
Cadillac
Escalade
Platinum Sport Utility 4-Door 6.2L 6162CC 376Cu. In. V8 GAS OHV Naturally Aspirated
2011
Cadillac
Escalade
Premium Sport Utility 4-Door 6.2L 6162CC 376Cu. In. V8 FLEX OHV Naturally Aspirated
2011
Chevrolet
Avalanche
Base Crew Cab Pickup 4-Door 5.3L 5328CC 325Cu. In. V8 FLEX OHV Naturally Aspirated
2011
Chevrolet
Avalanche
LS Crew Cab Pickup 4-Door 5.3L 5328CC 325Cu. In. V8 FLEX OHV Naturally Aspirated
2011
Chevrolet
Avalanche
LT Crew Cab Pickup 4-Door 5.3L 5328CC 325Cu. In. V8 FLEX OHV Naturally Aspirated
2011
Chevrolet
Avalanche
LTZ Crew Cab Pickup 4-Door 5.3L 5328CC 325Cu. In. V8 FLEX OHV Naturally Aspirated
2011
Chevrolet
Camaro
1LT Coupe 2-Door 3.6L 3564CC 217Cu. In. V6 GAS DOHC Naturally Aspirated
2011
Chevrolet
Camaro
1SS Coupe 2-Door 6.2L 6162CC 376Cu. In. V8 GAS DOHC Naturally Aspirated
2011
Chevrolet
Camaro
2SS Coupe 2-Door 6.2L 6162CC 376Cu. In. V8 GAS DOHC Naturally Aspirated
2011
Chevrolet
Camaro
LS Coupe 2-Door 3.6L 3564CC 217Cu. In. V6 GAS DOHC Naturally Aspirated
2011
Chevrolet
Camaro
LT Convertible 2-Door 3.6L 3564CC 217Cu. In. V6 GAS DOHC Naturally Aspirated
2011
Chevrolet
Camaro
LT Coupe 2-Door 3.6L 3564CC 217Cu. In. V6 GAS DOHC Naturally Aspirated
2011
Chevrolet
Camaro
SS Convertible 2-Door 6.2L 6162CC 376Cu. In. V8 GAS OHV Naturally Aspirated
2011
Chevrolet
Camaro
SS Coupe 2-Door 6.2L 6162CC 376Cu. In. V8 GAS OHV Naturally Aspirated
2011
Chevrolet
Caprice
PPV Sedan 4-Door 6.0L 5967CC 364Cu. In. V8 FLEX OHV Naturally Aspirated
2011
Chevrolet
Colorado
Base Crew Cab Pickup 4-Door 2.9L 2921CC 178Cu. In. l4 GAS DOHC Naturally Aspirated
2011
Chevrolet
Colorado
Base Crew Cab Pickup 4-Door 3.7L 3654CC 223Cu. In. l5 GAS DOHC Naturally Aspirated
2011
Chevrolet
Colorado
LT Crew Cab Pickup 4-Door 2.9L 2921CC 178Cu. In. l4 GAS DOHC Naturally Aspirated
2011
Chevrolet
Colorado
LT Crew Cab Pickup 4-Door 3.7L 3654CC 223Cu. In. l5 GAS DOHC Naturally Aspirated
2011
Chevrolet
Colorado
LT Crew Cab Pickup 4-Door 5.3L 5328CC 325Cu. In. V8 GAS OHV Naturally Aspirated
2011
Chevrolet
Colorado
LT Extended Cab Pickup 4-Door 2.9L 2921CC 178Cu. In. l4 GAS DOHC Naturally Aspirated
2011
Chevrolet
Colorado
LT Extended Cab Pickup 4-Door 3.7L 3654CC 223Cu. In. l5 GAS DOHC Naturally Aspirated
2011
Chevrolet
Colorado
LT Extended Cab Pickup 4-Door 5.3L 5328CC 325Cu. In. V8 GAS OHV Naturally Aspirated
2011
Chevrolet
Colorado
LT Standard Cab Pickup 2-Door 2.9L 2921CC 178Cu. In. l4 GAS DOHC Naturally Aspirated
2011
Chevrolet
Colorado
LT Standard Cab Pickup 2-Door 3.7L 3654CC 223Cu. In. l5 GAS DOHC Naturally Aspirated
2011
Chevrolet
Colorado
LT Standard Cab Pickup 2-Door 5.3L 5328CC 325Cu. In. V8 GAS OHV Naturally Aspirated
2011
Chevrolet
Colorado
WT Extended Cab Pickup 4-Door 2.9L 2921CC 178Cu. In. l4 GAS DOHC Naturally Aspirated
2011
Chevrolet
Colorado
WT Extended Cab Pickup 4-Door 3.7L 3654CC 223Cu. In. l5 GAS DOHC Naturally Aspirated
2011
Chevrolet
Colorado
WT Standard Cab Pickup 2-Door 2.9L 2921CC 178Cu. In. l4 GAS DOHC Naturally Aspirated
2011
Chevrolet
Colorado
WT Standard Cab Pickup 2-Door 3.7L 3654CC 223Cu. In. l5 GAS DOHC Naturally Aspirated
2011
Chevrolet
Corvette
Base Convertible 2-Door 6.2L 6162CC 376Cu. In. V8 GAS OHV Naturally Aspirated
2011
Chevrolet
Corvette
Base Coupe 2-Door 6.2L 6162CC 376Cu. In. V8 GAS OHV Naturally Aspirated
2011
Chevrolet
Corvette
Grand Sport Convertible 2-Door 6.2L 6162CC 376Cu. In. V8 GAS OHV Naturally Aspirated
2011
Chevrolet
Corvette
Grand Sport Coupe 2-Door 6.2L 6162CC 376Cu. In. V8 GAS OHV Naturally Aspirated
2011
Chevrolet
Corvette
Z06 Carbon Coupe 2-Door 7.0L 7011CC 427Cu. In. V8 GAS OHV Naturally Aspirated
2011
Chevrolet
Corvette
Z06 Coupe 2-Door 7.0L 7011CC 427Cu. In. V8 GAS OHV Naturally Aspirated
2011
Chevrolet
Corvette
ZR1 Coupe 2-Door 6.2L 6162CC 376Cu. In. V8 GAS OHV Supercharged
2011
Chevrolet
Silverado 1500
Base Standard Cab Pickup 2-Door 4.3L 4300CC 262Cu. In. V6 GAS OHV Naturally Aspirated
2011
Chevrolet
Silverado 1500
Hybrid Crew Cab Pickup 4-Door 6.0L 5967CC 364Cu. In. V8 ELECTRIC/FLEX OHV Naturally Aspirated
2011
Chevrolet
Silverado 1500
LS Crew Cab Pickup 4-Door 4.8L 294Cu. In. V8 FLEX OHV Naturally Aspirated
2011
Chevrolet
Silverado 1500
LS Crew Cab Pickup 4-Door 5.3L 5328CC 325Cu. In. V8 FLEX OHV Naturally Aspirated
2011
Chevrolet
Silverado 1500
LS Extended Cab Pickup 4-Door 4.8L 294Cu. In. V8 FLEX OHV Naturally Aspirated
2011
Chevrolet
Silverado 1500
LS Extended Cab Pickup 4-Door 5.3L 5328CC 325Cu. In. V8 FLEX OHV Naturally Aspirated
2011
Chevrolet
Silverado 1500
LT Crew Cab Pickup 4-Door 4.8L 294Cu. In. V8 FLEX OHV Naturally Aspirated
2011
Chevrolet
Silverado 1500
LT Crew Cab Pickup 4-Door 5.3L 5328CC 325Cu. In. V8 FLEX OHV Naturally Aspirated
2011
Chevrolet
Silverado 1500
LT Crew Cab Pickup 4-Door 6.2L 6162CC 376Cu. In. V8 FLEX OHV Naturally Aspirated
2011
Chevrolet
Silverado 1500
LT Extended Cab Pickup 4-Door 4.8L 294Cu. In. V8 FLEX OHV Naturally Aspirated
2011
Chevrolet
Silverado 1500
LT Extended Cab Pickup 4-Door 5.3L 5328CC 325Cu. In. V8 FLEX OHV Naturally Aspirated
2011
Chevrolet
Silverado 1500
LT Extended Cab Pickup 4-Door 6.2L 6162CC 376Cu. In. V8 FLEX OHV Naturally Aspirated
2011
Chevrolet
Silverado 1500
LT Standard Cab Pickup 2-Door 4.8L 294Cu. In. V8 FLEX OHV Naturally Aspirated
2011
Chevrolet
Silverado 1500
LT Standard Cab Pickup 2-Door 5.3L 5328CC 325Cu. In. V8 FLEX OHV Naturally Aspirated
2011
Chevrolet
Silverado 1500
LT Standard Cab Pickup 2-Door 6.2L 6162CC 376Cu. In. V8 FLEX OHV Naturally Aspirated
2011
Chevrolet
Silverado 1500
LTZ Crew Cab Pickup 4-Door 5.3L 5328CC 325Cu. In. V8 FLEX OHV Naturally Aspirated
2011
Chevrolet
Silverado 1500
LTZ Crew Cab Pickup 4-Door 6.2L 6162CC 376Cu. In. V8 FLEX OHV Naturally Aspirated
2011
Chevrolet
Silverado 1500
LTZ Extended Cab Pickup 4-Door 5.3L 5328CC 325Cu. In. V8 FLEX OHV Naturally Aspirated
2011
Chevrolet
Silverado 1500
LTZ Extended Cab Pickup 4-Door 6.2L 6162CC 376Cu. In. V8 FLEX OHV Naturally Aspirated
2011
Chevrolet
Silverado 1500
WT Crew Cab Pickup 4-Door 4.3L 262Cu. In. V6 GAS OHV Naturally Aspirated
2011
Chevrolet
Silverado 1500
WT Crew Cab Pickup 4-Door 4.8L 294Cu. In. V8 FLEX OHV Naturally Aspirated
2011
Chevrolet
Silverado 1500
WT Crew Cab Pickup 4-Door 5.3L 5328CC 325Cu. In. V8 FLEX OHV Naturally Aspirated
2011
Chevrolet
Silverado 1500
WT Extended Cab Pickup 4-Door 4.3L 262Cu. In. V6 GAS OHV Naturally Aspirated
2011
Chevrolet
Silverado 1500
WT Extended Cab Pickup 4-Door 4.8L 294Cu. In. V8 FLEX OHV Naturally Aspirated
2011
Chevrolet
Silverado 1500
WT Extended Cab Pickup 4-Door 5.3L 5328CC 325Cu. In. V8 FLEX OHV Naturally Aspirated
2011
Chevrolet
Silverado 1500
WT Standard Cab Pickup 2-Door 4.3L 262Cu. In. V6 GAS OHV Naturally Aspirated
2011
Chevrolet
Silverado 1500
WT Standard Cab Pickup 2-Door 4.8L 294Cu. In. V8 FLEX OHV Naturally Aspirated
2011
Chevrolet
Silverado 1500
WT Standard Cab Pickup 2-Door 5.3L 5328CC 325Cu. In. V8 FLEX OHV Naturally Aspirated
2011
Chevrolet
Silverado 1500
XFE Crew Cab Pickup 4-Door 5.3L 5328CC 325Cu. In. V8 FLEX OHV Naturally Aspirated
2011
Chevrolet
Silverado 2500
Base Crew Cab Pickup 4-Door 4.8L 294Cu. In. V8 GAS OHV Naturally Aspirated
2011
Chevrolet
Silverado 2500
Base Crew Cab Pickup 4-Door 5.3L 5328CC 325Cu. In. V8 GAS OHV Naturally Aspirated
2011
Chevrolet
Silverado 2500
Base Extended Cab Pickup 4-Door 4.8L 294Cu. In. V8 GAS OHV Naturally Aspirated
2011
Chevrolet
Silverado 2500
Base Extended Cab Pickup 4-Door 5.3L 5328CC 325Cu. In. V8 GAS OHV Naturally Aspirated
2011
Chevrolet
Silverado 2500
Base Standard Cab Pickup 2-Door 4.8L 294Cu. In. V8 GAS OHV Naturally Aspirated
2011
Chevrolet
Silverado 2500
Base Standard Cab Pickup 2-Door 5.3L 5328CC 325Cu. In. V8 GAS OHV Naturally Aspirated
2011
Chevrolet
Silverado 3500
Base Cab & Chassis 2-Door 6.0L 5967CC 364Cu. In. V8 GAS OHV Naturally Aspirated
2011
Chevrolet
Tahoe
Base Sport Utility 4-Door 5.3L 5328CC 325Cu. In. V8 GAS OHV Naturally Aspirated
2011
Chevrolet
Tahoe
Hybrid Sport Utility 4-Door 6.0L 5967CC 364Cu. In. V8 ELECTRIC/FLEX OHV Naturally Aspirated
2011
Chevrolet
Tahoe
LS Sport Utility 4-Door 5.3L 5328CC 325Cu. In. V8 FLEX OHV Naturally Aspirated
2011
Chevrolet
Tahoe
LT Sport Utility 4-Door 5.3L 5328CC 325Cu. In. V8 FLEX OHV Naturally Aspirated
2011
Chevrolet
Tahoe
LTZ Sport Utility 4-Door 5.3L 5328CC 325Cu. In. V8 FLEX OHV Naturally Aspirated
2011
GMC
Canyon
Base Crew Cab Pickup 4-Door 3.7L 3654CC 223Cu. In. l5 GAS DOHC Naturally Aspirated
2011
GMC
Canyon
SLE Crew Cab Pickup 4-Door 2.9L 2921CC 178Cu. In. l4 GAS DOHC Naturally Aspirated
2011
GMC
Canyon
SLE Crew Cab Pickup 4-Door 3.7L 3654CC 223Cu. In. l5 GAS DOHC Naturally Aspirated
2011
GMC
Canyon
SLE Crew Cab Pickup 4-Door 5.3L 5328CC 325Cu. In. V8 GAS OHV Naturally Aspirated
2011
GMC
Canyon
SLE Extended Cab Pickup 4-Door 2.9L 2921CC 178Cu. In. l4 GAS DOHC Naturally Aspirated
2011
GMC
Canyon
SLE Extended Cab Pickup 4-Door 3.7L 3654CC 223Cu. In. l5 GAS DOHC Naturally Aspirated
2011
GMC
Canyon
SLE Extended Cab Pickup 4-Door 5.3L 5328CC 325Cu. In. V8 GAS OHV Naturally Aspirated
2011
GMC
Canyon
SLE Standard Cab Pickup 2-Door 2.9L 2921CC 178Cu. In. l4 GAS DOHC Naturally Aspirated
2011
GMC
Canyon
SLE Standard Cab Pickup 2-Door 3.7L 3654CC 223Cu. In. l5 GAS DOHC Naturally Aspirated
2011
GMC
Canyon
SLE Standard Cab Pickup 2-Door 5.3L 5328CC 325Cu. In. V8 GAS OHV Naturally Aspirated
2011
GMC
Canyon
SLT Crew Cab Pickup 4-Door 3.7L 3654CC 223Cu. In. l5 GAS DOHC Naturally Aspirated
2011
GMC
Canyon
SLT Crew Cab Pickup 4-Door 5.3L 5328CC 325Cu. In. V8 GAS OHV Naturally Aspirated
2011
GMC
Canyon
SLT Extended Cab Pickup 4-Door 3.7L 3654CC 223Cu. In. l5 GAS DOHC Naturally Aspirated
2011
GMC
Canyon
SLT Extended Cab Pickup 4-Door 5.3L 5328CC 325Cu. In. V8 GAS OHV Naturally Aspirated
2011
GMC
Canyon
WT Extended Cab Pickup 4-Door 2.9L 2921CC 178Cu. In. l4 GAS DOHC Naturally Aspirated
2011
GMC
Canyon
WT Extended Cab Pickup 4-Door 3.7L 3654CC 223Cu. In. l5 GAS DOHC Naturally Aspirated
2011
GMC
Canyon
WT Standard Cab Pickup 2-Door 2.9L 2921CC 178Cu. In. l4 GAS DOHC Naturally Aspirated
2011
GMC
Canyon
WT Standard Cab Pickup 2-Door 3.7L 3654CC 223Cu. In. l5 GAS DOHC Naturally Aspirated
2011
GMC
Sierra 1500
Denali Crew Cab Pickup 4-Door 6.2L 6162CC 376Cu. In. V8 FLEX OHV Naturally Aspirated
2011
GMC
Sierra 1500
Hybrid Crew Cab Pickup 4-Door 6.0L 5967CC 364Cu. In. V8 ELECTRIC/FLEX OHV Naturally Aspirated
2011
GMC
Sierra 1500
SL Crew Cab Pickup 4-Door 4.8L 294Cu. In. V8 FLEX OHV Naturally Aspirated
2011
GMC
Sierra 1500
SL Crew Cab Pickup 4-Door 5.3L 5328CC 325Cu. In. V8 FLEX OHV Naturally Aspirated
2011
GMC
Sierra 1500
SL Extended Cab Pickup 4-Door 4.8L 294Cu. In. V8 FLEX OHV Naturally Aspirated
2011
GMC
Sierra 1500
SL Extended Cab Pickup 4-Door 5.3L 5328CC 325Cu. In. V8 FLEX OHV Naturally Aspirated
2011
GMC
Sierra 1500
SLE Crew Cab Pickup 4-Door 4.8L 294Cu. In. V8 FLEX OHV Naturally Aspirated
2011
GMC
Sierra 1500
SLE Crew Cab Pickup 4-Door 5.3L 5328CC 325Cu. In. V8 FLEX OHV Naturally Aspirated
2011
GMC
Sierra 1500
SLE Crew Cab Pickup 4-Door 6.2L 6162CC 376Cu. In. V8 FLEX OHV Naturally Aspirated
2011
GMC
Sierra 1500
SLE Extended Cab Pickup 4-Door 4.8L 294Cu. In. V8 FLEX OHV Naturally Aspirated
2011
GMC
Sierra 1500
SLE Extended Cab Pickup 4-Door 5.3L 5328CC 325Cu. In. V8 FLEX OHV Naturally Aspirated
2011
GMC
Sierra 1500
SLE Extended Cab Pickup 4-Door 6.2L 6162CC 376Cu. In. V8 FLEX OHV Naturally Aspirated
2011
GMC
Sierra 1500
SLE Standard Cab Pickup 2-Door 4.8L 294Cu. In. V8 FLEX OHV Naturally Aspirated
2011
GMC
Sierra 1500
SLE Standard Cab Pickup 2-Door 5.3L 5328CC 325Cu. In. V8 FLEX OHV Naturally Aspirated
2011
GMC
Sierra 1500
SLE Standard Cab Pickup 2-Door 6.2L 6162CC 376Cu. In. V8 FLEX OHV Naturally Aspirated
2011
GMC
Sierra 1500
SLT Crew Cab Pickup 4-Door 5.3L 5328CC 325Cu. In. V8 FLEX OHV Naturally Aspirated
2011
GMC
Sierra 1500
SLT Crew Cab Pickup 4-Door 6.2L 6162CC 376Cu. In. V8 FLEX OHV Naturally Aspirated
2011
GMC
Sierra 1500
SLT Extended Cab Pickup 4-Door 5.3L 5328CC 325Cu. In. V8 FLEX OHV Naturally Aspirated
2011
GMC
Sierra 1500
SLT Extended Cab Pickup 4-Door 6.2L 6162CC 376Cu. In. V8 FLEX OHV Naturally Aspirated
2011
GMC
Sierra 1500
WT Crew Cab Pickup 4-Door 4.3L 262Cu. In. V6 GAS OHV Naturally Aspirated
2011
GMC
Sierra 1500
WT Crew Cab Pickup 4-Door 4.8L 294Cu. In. V8 FLEX OHV Naturally Aspirated
2011
GMC
Sierra 1500
WT Crew Cab Pickup 4-Door 5.3L 5328CC 325Cu. In. V8 FLEX OHV Naturally Aspirated
2011
GMC
Sierra 1500
WT Extended Cab Pickup 4-Door 4.3L 262Cu. In. V6 GAS OHV Naturally Aspirated
2011
GMC
Sierra 1500
WT Extended Cab Pickup 4-Door 4.8L 294Cu. In. V8 FLEX OHV Naturally Aspirated
2011
GMC
Sierra 1500
WT Extended Cab Pickup 4-Door 5.3L 5328CC 325Cu. In. V8 FLEX OHV Naturally Aspirated
2011
GMC
Sierra 1500
WT Standard Cab Pickup 2-Door 4.3L 262Cu. In. V6 GAS OHV Naturally Aspirated
2011
GMC
Sierra 1500
WT Standard Cab Pickup 2-Door 4.8L 294Cu. In. V8 FLEX OHV Naturally Aspirated
2011
GMC
Sierra 1500
WT Standard Cab Pickup 2-Door 5.3L 5328CC 325Cu. In. V8 FLEX OHV Naturally Aspirated
2011
GMC
Sierra 1500
XFE Crew Cab Pickup 4-Door 5.3L 5328CC 325Cu. In. V8 FLEX OHV Naturally Aspirated
2011
GMC
Yukon
Base Sport Utility 4-Door 6.2L 6162CC 376Cu. In. V8 GAS OHV Naturally Aspirated
2011
GMC
Yukon
Denali Hybrid Sport Utility 4-Door 6.0L 5967CC 364Cu. In. V8 ELECTRIC/FLEX OHV Naturally Aspirated
2011
GMC
Yukon
Denali Sport Utility 4-Door 6.2L 6162CC 376Cu. In. V8 FLEX OHV Naturally Aspirated
2011
GMC
Yukon
Hybrid Sport Utility 4-Door 6.0L 5967CC 364Cu. In. V8 ELECTRIC/FLEX OHV Naturally Aspirated
2011
GMC
Yukon
SLE Sport Utility 4-Door 5.3L 5328CC 325Cu. In. V8 FLEX OHV Naturally Aspirated
2011
GMC
Yukon
SLT Sport Utility 4-Door 5.3L 5328CC 325Cu. In. V8 FLEX OHV Naturally Aspirated
2010
Cadillac
CTS
Base Sedan 4-Door 3.0L 182Cu. In. V6 GAS DOHC Naturally Aspirated
2010
Cadillac
CTS
Base Sedan 4-Door 3.6L 3564CC 217Cu. In. V6 GAS DOHC Naturally Aspirated
2010
Cadillac
CTS
Base Wagon 4-Door 3.0L 182Cu. In. V6 GAS DOHC Naturally Aspirated
2010
Cadillac
CTS
Base Wagon 4-Door 3.6L 3564CC 217Cu. In. V6 GAS DOHC Naturally Aspirated
2010
Cadillac
CTS
Luxury Sedan 4-Door 3.0L 182Cu. In. V6 GAS DOHC Naturally Aspirated
2010
Cadillac
CTS
Luxury Sedan 4-Door 3.6L 3564CC 217Cu. In. V6 GAS DOHC Naturally Aspirated
2010
Cadillac
CTS
Luxury Wagon 4-Door 3.0L 182Cu. In. V6 GAS DOHC Naturally Aspirated
2010
Cadillac
CTS
Luxury Wagon 4-Door 3.6L 3564CC 217Cu. In. V6 GAS DOHC Naturally Aspirated
2010
Cadillac
CTS
Performance Sedan 4-Door 3.0L 182Cu. In. V6 GAS DOHC Naturally Aspirated
2010
Cadillac
CTS
Performance Sedan 4-Door 3.6L 3564CC 217Cu. In. V6 GAS DOHC Naturally Aspirated
2010
Cadillac
CTS
Performance Wagon 4-Door 3.0L 182Cu. In. V6 GAS DOHC Naturally Aspirated
2010
Cadillac
CTS
Performance Wagon 4-Door 3.6L 3564CC 217Cu. In. V6 GAS DOHC Naturally Aspirated
2010
Cadillac
CTS
Premium Sedan 4-Door 3.6L 3564CC 217Cu. In. V6 GAS DOHC Naturally Aspirated
2010
Cadillac
CTS
Premium Wagon 4-Door 3.6L 3564CC 217Cu. In. V6 GAS DOHC Naturally Aspirated
2010
Cadillac
CTS
V Sedan 4-Door 6.2L 6162CC 376Cu. In. V8 GAS OHV Supercharged
2010
Cadillac
Escalade
Base Sport Utility 4-Door 6.2L 6162CC 376Cu. In. V8 FLEX OHV Naturally Aspirated
2010
Cadillac
Escalade
Base Sport Utility 4-Door 6.2L 6162CC 376Cu. In. V8 GAS OHV Naturally Aspirated
2010
Cadillac
Escalade
Hybrid Platinum Sport Utility 4-Door 6.0L 5967CC 364Cu. In. V8 ELECTRIC/FLEX OHV Naturally Aspirated
2010
Cadillac
Escalade
Hybrid Sport Utility 4-Door 6.0L 5967CC 364Cu. In. V8 ELECTRIC/FLEX OHV Naturally Aspirated
2010
Cadillac
Escalade
Platinum Sport Utility 4-Door 6.2L 6162CC 376Cu. In. V8 FLEX OHV Naturally Aspirated
2010
Cadillac
Escalade
Platinum Sport Utility 4-Door 6.2L 6162CC 376Cu. In. V8 GAS OHV Naturally Aspirated
2010
Chevrolet
Avalanche
Base Crew Cab Pickup 4-Door 5.3L 5328CC 325Cu. In. V8 FLEX OHV Naturally Aspirated
2010
Chevrolet
Avalanche
LS Crew Cab Pickup 4-Door 5.3L 5328CC 325Cu. In. V8 FLEX OHV Naturally Aspirated
2010
Chevrolet
Avalanche
LT Crew Cab Pickup 4-Door 5.3L 5328CC 325Cu. In. V8 FLEX OHV Naturally Aspirated
2010
Chevrolet
Avalanche
LTZ Crew Cab Pickup 4-Door 5.3L 5328CC 325Cu. In. V8 FLEX OHV Naturally Aspirated
2010
Chevrolet
Camaro
LS Coupe 2-Door 3.6L 3564CC 217Cu. In. V6 GAS DOHC Naturally Aspirated
2010
Chevrolet
Camaro
LT Coupe 2-Door 3.6L 3564CC 217Cu. In. V6 GAS DOHC Naturally Aspirated
2010
Chevrolet
Camaro
SS Coupe 2-Door 6.2L 6162CC 376Cu. In. V8 GAS OHV Naturally Aspirated
2010
Chevrolet
Colorado
Base Crew Cab Pickup 4-Door 3.7L 3654CC 223Cu. In. l5 GAS DOHC Naturally Aspirated
2010
Chevrolet
Colorado
LT Crew Cab Pickup 4-Door 2.9L 2921CC 178Cu. In. l4 GAS DOHC Naturally Aspirated
2010
Chevrolet
Colorado
LT Crew Cab Pickup 4-Door 3.7L 3654CC 223Cu. In. l5 GAS DOHC Naturally Aspirated
2010
Chevrolet
Colorado
LT Crew Cab Pickup 4-Door 5.3L 5328CC 325Cu. In. V8 GAS OHV Naturally Aspirated
2010
Chevrolet
Colorado
LT Extended Cab Pickup 4-Door 2.9L 2921CC 178Cu. In. l4 GAS DOHC Naturally Aspirated
2010
Chevrolet
Colorado
LT Extended Cab Pickup 4-Door 3.7L 3654CC 223Cu. In. l5 GAS DOHC Naturally Aspirated
2010
Chevrolet
Colorado
LT Extended Cab Pickup 4-Door 5.3L 5328CC 325Cu. In. V8 GAS OHV Naturally Aspirated
2010
Chevrolet
Colorado
LT Standard Cab Pickup 2-Door 2.9L 2921CC 178Cu. In. l4 GAS DOHC Naturally Aspirated
2010
Chevrolet
Colorado
LT Standard Cab Pickup 2-Door 3.7L 3654CC 223Cu. In. l5 GAS DOHC Naturally Aspirated
2010
Chevrolet
Colorado
LT Standard Cab Pickup 2-Door 5.3L 5328CC 325Cu. In. V8 GAS OHV Naturally Aspirated
2010
Chevrolet
Colorado
WT Extended Cab Pickup 4-Door 2.9L 2921CC 178Cu. In. l4 GAS DOHC Naturally Aspirated
2010
Chevrolet
Colorado
WT Extended Cab Pickup 4-Door 3.7L 3654CC 223Cu. In. l5 GAS DOHC Naturally Aspirated
2010
Chevrolet
Colorado
WT Standard Cab Pickup 2-Door 2.9L 2921CC 178Cu. In. l4 GAS DOHC Naturally Aspirated
2010
Chevrolet
Colorado
WT Standard Cab Pickup 2-Door 3.7L 3654CC 223Cu. In. l5 GAS DOHC Naturally Aspirated
2010
Chevrolet
Corvette
Base Convertible 2-Door 6.2L 6162CC 376Cu. In. V8 GAS OHV Naturally Aspirated
2010
Chevrolet
Corvette
Base Coupe 2-Door 6.2L 6162CC 376Cu. In. V8 GAS OHV Naturally Aspirated
2010
Chevrolet
Corvette
Grand Sport Convertible 2-Door 6.2L 6162CC 376Cu. In. V8 GAS OHV Naturally Aspirated
2010
Chevrolet
Corvette
Grand Sport Coupe 2-Door 6.2L 6162CC 376Cu. In. V8 GAS OHV Naturally Aspirated
2010
Chevrolet
Corvette
Z06 Coupe 2-Door 7.0L 7011CC 427Cu. In. V8 GAS OHV Naturally Aspirated
2010
Chevrolet
Corvette
ZR1 Coupe 2-Door 6.2L 6162CC 376Cu. In. V8 GAS OHV Supercharged
2010
Chevrolet
Silverado 1500
Base Standard Cab Pickup 2-Door 4.3L 4300CC 262Cu. In. V6 GAS OHV Naturally Aspirated
2010
Chevrolet
Silverado 1500
Hybrid Crew Cab Pickup 4-Door 6.0L 5967CC 364Cu. In. V8 ELECTRIC/FLEX OHV Naturally Aspirated
2010
Chevrolet
Silverado 1500
LS Crew Cab Pickup 4-Door 4.8L 294Cu. In. V8 FLEX OHV Naturally Aspirated
2010
Chevrolet
Silverado 1500
LS Crew Cab Pickup 4-Door 5.3L 5328CC 325Cu. In. V8 FLEX OHV Naturally Aspirated
2010
Chevrolet
Silverado 1500
LS Extended Cab Pickup 4-Door 4.8L 294Cu. In. V8 FLEX OHV Naturally Aspirated
2010
Chevrolet
Silverado 1500
LS Extended Cab Pickup 4-Door 5.3L 5328CC 325Cu. In. V8 FLEX OHV Naturally Aspirated
2010
Chevrolet
Silverado 1500
LT Crew Cab Pickup 4-Door 4.8L 294Cu. In. V8 FLEX OHV Naturally Aspirated
2010
Chevrolet
Silverado 1500
LT Crew Cab Pickup 4-Door 5.3L 5328CC 325Cu. In. V8 FLEX OHV Naturally Aspirated
2010
Chevrolet
Silverado 1500
LT Crew Cab Pickup 4-Door 6.2L 6162CC 376Cu. In. V8 FLEX OHV Naturally Aspirated
2010
Chevrolet
Silverado 1500
LT Extended Cab Pickup 4-Door 4.8L 294Cu. In. V8 FLEX OHV Naturally Aspirated
2010
Chevrolet
Silverado 1500
LT Extended Cab Pickup 4-Door 5.3L 5328CC 325Cu. In. V8 FLEX OHV Naturally Aspirated
2010
Chevrolet
Silverado 1500
LT Extended Cab Pickup 4-Door 6.2L 6162CC 376Cu. In. V8 FLEX OHV Naturally Aspirated
2010
Chevrolet
Silverado 1500
LT Standard Cab Pickup 2-Door 4.8L 294Cu. In. V8 FLEX OHV Naturally Aspirated
2010
Chevrolet
Silverado 1500
LT Standard Cab Pickup 2-Door 5.3L 5328CC 325Cu. In. V8 FLEX OHV Naturally Aspirated
2010
Chevrolet
Silverado 1500
LT Standard Cab Pickup 2-Door 6.2L 6162CC 376Cu. In. V8 FLEX OHV Naturally Aspirated
2010
Chevrolet
Silverado 1500
LTZ Crew Cab Pickup 4-Door 5.3L 5328CC 325Cu. In. V8 FLEX OHV Naturally Aspirated
2010
Chevrolet
Silverado 1500
LTZ Crew Cab Pickup 4-Door 6.2L 6162CC 376Cu. In. V8 FLEX OHV Naturally Aspirated
2010
Chevrolet
Silverado 1500
LTZ Extended Cab Pickup 4-Door 5.3L 5328CC 325Cu. In. V8 FLEX OHV Naturally Aspirated
2010
Chevrolet
Silverado 1500
LTZ Extended Cab Pickup 4-Door 6.2L 6162CC 376Cu. In. V8 FLEX OHV Naturally Aspirated
2010
Chevrolet
Silverado 1500
WT Crew Cab Pickup 4-Door 4.3L 262Cu. In. V6 GAS OHV Naturally Aspirated
2010
Chevrolet
Silverado 1500
WT Crew Cab Pickup 4-Door 4.8L 294Cu. In. V8 FLEX OHV Naturally Aspirated
2010
Chevrolet
Silverado 1500
WT Crew Cab Pickup 4-Door 5.3L 5328CC 325Cu. In. V8 FLEX OHV Naturally Aspirated
2010
Chevrolet
Silverado 1500
WT Extended Cab Pickup 4-Door 4.3L 262Cu. In. V6 GAS OHV Naturally Aspirated
2010
Chevrolet
Silverado 1500
WT Extended Cab Pickup 4-Door 4.8L 294Cu. In. V8 FLEX OHV Naturally Aspirated
2010
Chevrolet
Silverado 1500
WT Extended Cab Pickup 4-Door 5.3L 5328CC 325Cu. In. V8 FLEX OHV Naturally Aspirated
2010
Chevrolet
Silverado 1500
WT Standard Cab Pickup 2-Door 4.3L 262Cu. In. V6 GAS OHV Naturally Aspirated
2010
Chevrolet
Silverado 1500
WT Standard Cab Pickup 2-Door 4.8L 294Cu. In. V8 FLEX OHV Naturally Aspirated
2010
Chevrolet
Silverado 1500
WT Standard Cab Pickup 2-Door 5.3L 5328CC 325Cu. In. V8 FLEX OHV Naturally Aspirated
2010
Chevrolet
Silverado 1500
XFE Crew Cab Pickup 4-Door 5.3L 5328CC 325Cu. In. V8 FLEX OHV Naturally Aspirated
2010
Chevrolet
Silverado 2500
Base Crew Cab Pickup 4-Door 4.8L 294Cu. In. V8 GAS OHV Naturally Aspirated
2010
Chevrolet
Silverado 2500
Base Crew Cab Pickup 4-Door 5.3L 5328CC 325Cu. In. V8 GAS OHV Naturally Aspirated
2010
Chevrolet
Silverado 2500
Base Standard Cab Pickup 2-Door 4.8L 294Cu. In. V8 GAS OHV Naturally Aspirated
2010
Chevrolet
Silverado 2500
Base Standard Cab Pickup 2-Door 5.3L 5328CC 325Cu. In. V8 GAS OHV Naturally Aspirated
2010
Chevrolet
Silverado 3500
Base Standard Cab Pickup 2-Door 6.0L 5967CC 364Cu. In. V8 GAS OHV Naturally Aspirated
2010
Chevrolet
Tahoe
Hybrid Sport Utility 4-Door 6.0L 5967CC 364Cu. In. V8 ELECTRIC/FLEX OHV Naturally Aspirated
2010
Chevrolet
Tahoe
LS Sport Utility 4-Door 5.3L 5328CC 325Cu. In. V8 FLEX OHV Naturally Aspirated
2010
Chevrolet
Tahoe
LS Sport Utility 4-Door 5.3L 5328CC 325Cu. In. V8 GAS OHV Naturally Aspirated
2010
Chevrolet
Tahoe
LT Sport Utility 4-Door 5.3L 5328CC 325Cu. In. V8 FLEX OHV Naturally Aspirated
2010
Chevrolet
Tahoe
LTZ Sport Utility 4-Door 5.3L 5328CC 325Cu. In. V8 FLEX OHV Naturally Aspirated
2010
GMC
Canyon
Base Crew Cab Pickup 4-Door 3.7L 3654CC 223Cu. In. l5 GAS DOHC Naturally Aspirated
2010
GMC
Canyon
SLE Crew Cab Pickup 4-Door 2.9L 2921CC 178Cu. In. l4 GAS DOHC Naturally Aspirated
2010
GMC
Canyon
SLE Crew Cab Pickup 4-Door 3.7L 3654CC 223Cu. In. l5 GAS DOHC Naturally Aspirated
2010
GMC
Canyon
SLE Crew Cab Pickup 4-Door 5.3L 5328CC 325Cu. In. V8 GAS OHV Naturally Aspirated
2010
GMC
Canyon
SLE Extended Cab Pickup 4-Door 2.9L 2921CC 178Cu. In. l4 GAS DOHC Naturally Aspirated
2010
GMC
Canyon
SLE Extended Cab Pickup 4-Door 3.7L 3654CC 223Cu. In. l5 GAS DOHC Naturally Aspirated
2010
GMC
Canyon
SLE Extended Cab Pickup 4-Door 5.3L 5328CC 325Cu. In. V8 GAS OHV Naturally Aspirated
2010
GMC
Canyon
SLE Standard Cab Pickup 2-Door 2.9L 2921CC 178Cu. In. l4 GAS DOHC Naturally Aspirated
2010
GMC
Canyon
SLE Standard Cab Pickup 2-Door 3.7L 3654CC 223Cu. In. l5 GAS DOHC Naturally Aspirated
2010
GMC
Canyon
SLE Standard Cab Pickup 2-Door 5.3L 5328CC 325Cu. In. V8 GAS OHV Naturally Aspirated
2010
GMC
Canyon
SLT Crew Cab Pickup 4-Door 3.7L 3654CC 223Cu. In. l5 GAS DOHC Naturally Aspirated
2010
GMC
Canyon
SLT Crew Cab Pickup 4-Door 5.3L 5328CC 325Cu. In. V8 GAS OHV Naturally Aspirated
2010
GMC
Canyon
SLT Extended Cab Pickup 4-Door 3.7L 3654CC 223Cu. In. l5 GAS DOHC Naturally Aspirated
2010
GMC
Canyon
SLT Extended Cab Pickup 4-Door 5.3L 5328CC 325Cu. In. V8 GAS OHV Naturally Aspirated
2010
GMC
Canyon
WT Extended Cab Pickup 4-Door 2.9L 2921CC 178Cu. In. l4 GAS DOHC Naturally Aspirated
2010
GMC
Canyon
WT Extended Cab Pickup 4-Door 3.7L 3654CC 223Cu. In. l5 GAS DOHC Naturally Aspirated
2010
GMC
Canyon
WT Standard Cab Pickup 2-Door 2.9L 2921CC 178Cu. In. l4 GAS DOHC Naturally Aspirated
2010
GMC
Canyon
WT Standard Cab Pickup 2-Door 3.7L 3654CC 223Cu. In. l5 GAS DOHC Naturally Aspirated
2010
GMC
Sierra 1500
Denali Crew Cab Pickup 4-Door 6.2L 6162CC 376Cu. In. V8 FLEX OHV Naturally Aspirated
2010
GMC
Sierra 1500
Hybrid Crew Cab Pickup 4-Door 6.0L 5967CC 364Cu. In. V8 ELECTRIC/FLEX OHV Naturally Aspirated
2010
GMC
Sierra 1500
SL Crew Cab Pickup 4-Door 4.8L 294Cu. In. V8 FLEX OHV Naturally Aspirated
2010
GMC
Sierra 1500
SL Crew Cab Pickup 4-Door 5.3L 5328CC 325Cu. In. V8 FLEX OHV Naturally Aspirated
2010
GMC
Sierra 1500
SL Extended Cab Pickup 4-Door 4.8L 294Cu. In. V8 FLEX OHV Naturally Aspirated
2010
GMC
Sierra 1500
SL Extended Cab Pickup 4-Door 5.3L 5328CC 325Cu. In. V8 FLEX OHV Naturally Aspirated
2010
GMC
Sierra 1500
SLE Crew Cab Pickup 4-Door 4.8L 294Cu. In. V8 FLEX OHV Naturally Aspirated
2010
GMC
Sierra 1500
SLE Crew Cab Pickup 4-Door 5.3L 5328CC 325Cu. In. V8 FLEX OHV Naturally Aspirated
2010
GMC
Sierra 1500
SLE Crew Cab Pickup 4-Door 6.2L 6162CC 376Cu. In. V8 FLEX OHV Naturally Aspirated
2010
GMC
Sierra 1500
SLE Extended Cab Pickup 4-Door 4.8L 294Cu. In. V8 FLEX OHV Naturally Aspirated
2010
GMC
Sierra 1500
SLE Extended Cab Pickup 4-Door 5.3L 5328CC 325Cu. In. V8 FLEX OHV Naturally Aspirated
2010
GMC
Sierra 1500
SLE Extended Cab Pickup 4-Door 6.2L 6162CC 376Cu. In. V8 FLEX OHV Naturally Aspirated
2010
GMC
Sierra 1500
SLE Standard Cab Pickup 2-Door 4.8L 294Cu. In. V8 FLEX OHV Naturally Aspirated
2010
GMC
Sierra 1500
SLE Standard Cab Pickup 2-Door 5.3L 5328CC 325Cu. In. V8 FLEX OHV Naturally Aspirated
2010
GMC
Sierra 1500
SLE Standard Cab Pickup 2-Door 6.2L 6162CC 376Cu. In. V8 FLEX OHV Naturally Aspirated
2010
GMC
Sierra 1500
SLT Crew Cab Pickup 4-Door 5.3L 5328CC 325Cu. In. V8 FLEX OHV Naturally Aspirated
2010
GMC
Sierra 1500
SLT Crew Cab Pickup 4-Door 6.2L 6162CC 376Cu. In. V8 FLEX OHV Naturally Aspirated
2010
GMC
Sierra 1500
SLT Extended Cab Pickup 4-Door 5.3L 5328CC 325Cu. In. V8 FLEX OHV Naturally Aspirated
2010
GMC
Sierra 1500
SLT Extended Cab Pickup 4-Door 6.2L 6162CC 376Cu. In. V8 FLEX OHV Naturally Aspirated
2010
GMC
Sierra 1500
WT Crew Cab Pickup 4-Door 4.3L 262Cu. In. V6 GAS OHV Naturally Aspirated
2010
GMC
Sierra 1500
WT Crew Cab Pickup 4-Door 4.8L 294Cu. In. V8 FLEX OHV Naturally Aspirated
2010
GMC
Sierra 1500
WT Crew Cab Pickup 4-Door 5.3L 5328CC 325Cu. In. V8 FLEX OHV Naturally Aspirated
2010
GMC
Sierra 1500
WT Extended Cab Pickup 4-Door 4.3L 262Cu. In. V6 GAS OHV Naturally Aspirated
2010
GMC
Sierra 1500
WT Extended Cab Pickup 4-Door 4.8L 294Cu. In. V8 FLEX OHV Naturally Aspirated
2010
GMC
Sierra 1500
WT Extended Cab Pickup 4-Door 5.3L 5328CC 325Cu. In. V8 FLEX OHV Naturally Aspirated
2010
GMC
Sierra 1500
WT Standard Cab Pickup 2-Door 4.3L 262Cu. In. V6 GAS OHV Naturally Aspirated
2010
GMC
Sierra 1500
WT Standard Cab Pickup 2-Door 4.8L 294Cu. In. V8 FLEX OHV Naturally Aspirated
2010
GMC
Sierra 1500
WT Standard Cab Pickup 2-Door 5.3L 5328CC 325Cu. In. V8 FLEX OHV Naturally Aspirated
2010
GMC
Sierra 1500
XFE Crew Cab Pickup 4-Door 5.3L 5328CC 325Cu. In. V8 FLEX OHV Naturally Aspirated
2010
GMC
Yukon
Denali Hybrid Sport Utility 4-Door 6.0L 5967CC 364Cu. In. V8 ELECTRIC/FLEX OHV Naturally Aspirated
2010
GMC
Yukon
Denali Sport Utility 4-Door 5.3L 5328CC 325Cu. In. V8 GAS OHV Naturally Aspirated
2010
GMC
Yukon
Denali Sport Utility 4-Door 6.2L 6162CC 376Cu. In. V8 FLEX OHV Naturally Aspirated
2010
GMC
Yukon
Hybrid Sport Utility 4-Door 6.0L 5967CC 364Cu. In. V8 ELECTRIC/FLEX OHV Naturally Aspirated
2010
GMC
Yukon
SLE Sport Utility 4-Door 5.3L 5328CC 325Cu. In. V8 FLEX OHV Naturally Aspirated
2010
GMC
Yukon
SLT Sport Utility 4-Door 5.3L 5328CC 325Cu. In. V8 FLEX OHV Naturally Aspirated
2010
Hummer
H3
Adventure Sport Utility 4-Door 3.7L 3654CC 223Cu. In. l5 GAS DOHC Naturally Aspirated
2010
Hummer
H3
Alpha Sport Utility 4-Door 5.3L 5328CC 325Cu. In. V8 FLEX OHV Naturally Aspirated
2010
Hummer
H3
Alpha Sport Utility 4-Door 5.3L 5328CC 325Cu. In. V8 GAS OHV Naturally Aspirated
2010
Hummer
H3
Base Sport Utility 4-Door 3.7L 3654CC 223Cu. In. l5 GAS DOHC Naturally Aspirated
2010
Hummer
H3
Luxury Sport Utility 4-Door 3.7L 3654CC 223Cu. In. l5 GAS DOHC Naturally Aspirated
2010
Hummer
H3T
Adventure Crew Cab Pickup 4-Door 3.7L 3654CC 223Cu. In. l5 GAS DOHC Naturally Aspirated
2010
Hummer
H3T
Alpha Crew Cab Pickup 4-Door 5.3L 5328CC 325Cu. In. V8 FLEX OHV Naturally Aspirated
2010
Hummer
H3T
Alpha Crew Cab Pickup 4-Door 5.3L 5328CC 325Cu. In. V8 GAS OHV Naturally Aspirated
2010
Hummer
H3T
Base Crew Cab Pickup 4-Door 3.7L 3654CC 223Cu. In. l5 GAS DOHC Naturally Aspirated
2009
Buick
Allure
CX Sedan 4-Door 3.8L 3800CC 231Cu. In. V6 GAS OHV Naturally Aspirated
2009
Buick
Allure
CXL Sedan 4-Door 3.8L 3800CC 231Cu. In. V6 GAS OHV Naturally Aspirated
2009
Buick
Allure
Super Sedan 4-Door 5.3L 5328CC 325Cu. In. V8 GAS OHV Naturally Aspirated
2009
Buick
LaCrosse
CX Sedan 4-Door 3.8L 3800CC 231Cu. In. V6 GAS OHV Naturally Aspirated
2009
Buick
LaCrosse
CXL Sedan 4-Door 3.8L 3800CC 231Cu. In. V6 GAS OHV Naturally Aspirated
2009
Buick
LaCrosse
Super Sedan 4-Door 5.3L 5328CC 325Cu. In. V8 GAS OHV Naturally Aspirated
2009
Cadillac
CTS
Base Sedan 4-Door 3.6L 3564CC 217Cu. In. V6 GAS DOHC Naturally Aspirated
2009
Cadillac
CTS
Luxury Sedan 4-Door 3.6L 3564CC 217Cu. In. V6 GAS DOHC Naturally Aspirated
2009
Cadillac
CTS
Premium Sedan 4-Door 3.6L 3564CC 217Cu. In. V6 GAS DOHC Naturally Aspirated
2009
Cadillac
CTS
V Sedan 4-Door 6.2L 6162CC 376Cu. In. V8 GAS OHV Supercharged
2009
Cadillac
Escalade
Base Sport Utility 4-Door 6.2L 6162CC 376Cu. In. V8 FLEX OHV Naturally Aspirated
2009
Cadillac
Escalade
Base Sport Utility 4-Door 6.2L 6162CC 376Cu. In. V8 GAS OHV Naturally Aspirated
2009
Cadillac
Escalade
Hybrid Sport Utility 4-Door 6.0L 5967CC 364Cu. In. V8 ELECTRIC/GAS OHV Naturally Aspirated
2009
Cadillac
Escalade
Platinum Sport Utility 4-Door 6.2L 6162CC 376Cu. In. V8 FLEX OHV Naturally Aspirated
2009
Chevrolet
Avalanche
Base Crew Cab Pickup 4-Door 5.3L 5328CC 325Cu. In. V8 FLEX OHV Naturally Aspirated
2009
Chevrolet
Avalanche
LS Crew Cab Pickup 4-Door 5.3L 5328CC 325Cu. In. V8 FLEX OHV Naturally Aspirated
2009
Chevrolet
Avalanche
LS Crew Cab Pickup 4-Door 5.3L 5328CC 325Cu. In. V8 GAS OHV Naturally Aspirated
2009
Chevrolet
Avalanche
LT Crew Cab Pickup 4-Door 5.3L 5328CC 325Cu. In. V8 FLEX OHV Naturally Aspirated
2009
Chevrolet
Avalanche
LT Crew Cab Pickup 4-Door 5.3L 5328CC 325Cu. In. V8 GAS OHV Naturally Aspirated
2009
Chevrolet
Avalanche
LT Crew Cab Pickup 4-Door 6.0L 5967CC 364Cu. In. V8 GAS OHV Naturally Aspirated
2009
Chevrolet
Avalanche
LTZ Crew Cab Pickup 4-Door 5.3L 5328CC 325Cu. In. V8 FLEX OHV Naturally Aspirated
2009
Chevrolet
Avalanche
LTZ Crew Cab Pickup 4-Door 5.3L 5328CC 325Cu. In. V8 GAS OHV Naturally Aspirated
2009
Chevrolet
Avalanche
LTZ Crew Cab Pickup 4-Door 6.0L 5967CC 364Cu. In. V8 GAS OHV Naturally Aspirated
2009
Chevrolet
Colorado
Base Crew Cab Pickup 4-Door 3.7L 3654CC 223Cu. In. l5 GAS DOHC Naturally Aspirated
2009
Chevrolet
Colorado
LT Crew Cab Pickup 4-Door 2.9L 2921CC 178Cu. In. l4 GAS DOHC Naturally Aspirated
2009
Chevrolet
Colorado
LT Crew Cab Pickup 4-Door 3.7L 3654CC 223Cu. In. l5 GAS DOHC Naturally Aspirated
2009
Chevrolet
Colorado
LT Crew Cab Pickup 4-Door 5.3L 5328CC 325Cu. In. V8 GAS OHV Naturally Aspirated
2009
Chevrolet
Colorado
LT Extended Cab Pickup 4-Door 2.9L 2921CC 178Cu. In. l4 GAS DOHC Naturally Aspirated
2009
Chevrolet
Colorado
LT Extended Cab Pickup 4-Door 3.7L 3654CC 223Cu. In. l5 GAS DOHC Naturally Aspirated
2009
Chevrolet
Colorado
LT Extended Cab Pickup 4-Door 5.3L 5328CC 325Cu. In. V8 GAS OHV Naturally Aspirated
2009
Chevrolet
Colorado
LT Standard Cab Pickup 2-Door 2.9L 2921CC 178Cu. In. l4 GAS DOHC Naturally Aspirated
2009
Chevrolet
Colorado
LT Standard Cab Pickup 2-Door 3.7L 3654CC 223Cu. In. l5 GAS DOHC Naturally Aspirated
2009
Chevrolet
Colorado
LT Standard Cab Pickup 2-Door 5.3L 5328CC 325Cu. In. V8 GAS OHV Naturally Aspirated
2009
Chevrolet
Colorado
WT Extended Cab Pickup 4-Door 2.9L 2921CC 178Cu. In. l4 GAS DOHC Naturally Aspirated
2009
Chevrolet
Colorado
WT Extended Cab Pickup 4-Door 3.7L 3654CC 223Cu. In. l5 GAS DOHC Naturally Aspirated
2009
Chevrolet
Colorado
WT Standard Cab Pickup 2-Door 2.9L 2921CC 178Cu. In. l4 GAS DOHC Naturally Aspirated
2009
Chevrolet
Colorado
WT Standard Cab Pickup 2-Door 3.7L 3654CC 223Cu. In. l5 GAS DOHC Naturally Aspirated
2009
Chevrolet
Corvette
Base Convertible 2-Door 6.2L 6162CC 376Cu. In. V8 GAS OHV Naturally Aspirated
2009
Chevrolet
Corvette
Base Coupe 2-Door 6.2L 6162CC 376Cu. In. V8 GAS OHV Naturally Aspirated
2009
Chevrolet
Corvette
Z06 Coupe 2-Door 7.0L 7011CC 427Cu. In. V8 GAS OHV Naturally Aspirated
2009
Chevrolet
Corvette
ZR1 Coupe 2-Door 6.2L 6162CC 376Cu. In. V8 GAS OHV Supercharged
2009
Chevrolet
Impala
LS Sedan 4-Door 3.5L 3490CC 213Cu. In. V6 FLEX OHV Naturally Aspirated
2009
Chevrolet
Impala
LS Sedan 4-Door 3.5L 3490CC 213Cu. In. V6 GAS OHV Naturally Aspirated
2009
Chevrolet
Impala
LT Sedan 4-Door 3.5L 3490CC 213Cu. In. V6 FLEX OHV Naturally Aspirated
2009
Chevrolet
Impala
LT Sedan 4-Door 3.5L 3490CC 213Cu. In. V6 GAS OHV Naturally Aspirated
2009
Chevrolet
Impala
LT Sedan 4-Door 3.9L 3880CC 237Cu. In. V6 FLEX OHV Naturally Aspirated
2009
Chevrolet
Impala
LTZ Sedan 4-Door 3.9L 3880CC 237Cu. In. V6 FLEX OHV Naturally Aspirated
2009
Chevrolet
Impala
Police Sedan 4-Door 3.9L 3880CC 237Cu. In. V6 FLEX OHV Naturally Aspirated
2009
Chevrolet
Impala
SS Sedan 4-Door 5.3L 5328CC 325Cu. In. V8 GAS OHV Naturally Aspirated
2009
Chevrolet
Silverado 1500
Base Standard Cab Pickup 2-Door 4.3L 262Cu. In. V6 GAS OHV Naturally Aspirated
2009
Chevrolet
Silverado 1500
Hybrid Crew Cab Pickup 4-Door 6.0L 5967CC 364Cu. In. V8 ELECTRIC/GAS OHV Naturally Aspirated
2009
Chevrolet
Silverado 1500
LS Crew Cab Pickup 4-Door 4.8L 294Cu. In. V8 GAS OHV Naturally Aspirated
2009
Chevrolet
Silverado 1500
LT Crew Cab Pickup 4-Door 4.8L 294Cu. In. V8 GAS OHV Naturally Aspirated
2009
Chevrolet
Silverado 1500
LT Crew Cab Pickup 4-Door 5.3L 5328CC 325Cu. In. V8 FLEX OHV Naturally Aspirated
2009
Chevrolet
Silverado 1500
LT Crew Cab Pickup 4-Door 5.3L 5328CC 325Cu. In. V8 GAS OHV Naturally Aspirated
2009
Chevrolet
Silverado 1500
LT Crew Cab Pickup 4-Door 6.0L 5967CC 364Cu. In. V8 GAS OHV Naturally Aspirated
2009
Chevrolet
Silverado 1500
LT Extended Cab Pickup 4-Door 4.8L 294Cu. In. V8 GAS OHV Naturally Aspirated
2009
Chevrolet
Silverado 1500
LT Extended Cab Pickup 4-Door 5.3L 5328CC 325Cu. In. V8 FLEX OHV Naturally Aspirated
2009
Chevrolet
Silverado 1500
LT Extended Cab Pickup 4-Door 5.3L 5328CC 325Cu. In. V8 GAS OHV Naturally Aspirated
2009
Chevrolet
Silverado 1500
LT Extended Cab Pickup 4-Door 6.0L 5967CC 364Cu. In. V8 GAS OHV Naturally Aspirated
2009
Chevrolet
Silverado 1500
LT Standard Cab Pickup 2-Door 4.8L 294Cu. In. V8 GAS OHV Naturally Aspirated
2009
Chevrolet
Silverado 1500
LT Standard Cab Pickup 2-Door 5.3L 5328CC 325Cu. In. V8 FLEX OHV Naturally Aspirated
2009
Chevrolet
Silverado 1500
LT Standard Cab Pickup 2-Door 5.3L 5328CC 325Cu. In. V8 GAS OHV Naturally Aspirated
2009
Chevrolet
Silverado 1500
LT Standard Cab Pickup 2-Door 6.0L 5967CC 364Cu. In. V8 GAS OHV Naturally Aspirated
2009
Chevrolet
Silverado 1500
LTZ Crew Cab Pickup 4-Door 5.3L 5328CC 325Cu. In. V8 FLEX OHV Naturally Aspirated
2009
Chevrolet
Silverado 1500
LTZ Crew Cab Pickup 4-Door 5.3L 5328CC 325Cu. In. V8 GAS OHV Naturally Aspirated
2009
Chevrolet
Silverado 1500
LTZ Crew Cab Pickup 4-Door 6.0L 5967CC 364Cu. In. V8 GAS OHV Naturally Aspirated
2009
Chevrolet
Silverado 1500
LTZ Crew Cab Pickup 4-Door 6.2L 6162CC 376Cu. In. V8 FLEX OHV Naturally Aspirated
2009
Chevrolet
Silverado 1500
LTZ Extended Cab Pickup 4-Door 5.3L 5328CC 325Cu. In. V8 FLEX OHV Naturally Aspirated
2009
Chevrolet
Silverado 1500
LTZ Extended Cab Pickup 4-Door 5.3L 5328CC 325Cu. In. V8 GAS OHV Naturally Aspirated
2009
Chevrolet
Silverado 1500
LTZ Extended Cab Pickup 4-Door 6.0L 5967CC 364Cu. In. V8 GAS OHV Naturally Aspirated
2009
Chevrolet
Silverado 1500
LTZ Extended Cab Pickup 4-Door 6.2L 6162CC 376Cu. In. V8 FLEX OHV Naturally Aspirated
2009
Chevrolet
Silverado 1500
WT Crew Cab Pickup 4-Door 4.3L 262Cu. In. V6 GAS OHV Naturally Aspirated
2009
Chevrolet
Silverado 1500
WT Crew Cab Pickup 4-Door 4.8L 294Cu. In. V8 GAS OHV Naturally Aspirated
2009
Chevrolet
Silverado 1500
WT Crew Cab Pickup 4-Door 5.3L 5328CC 325Cu. In. V8 FLEX OHV Naturally Aspirated
2009
Chevrolet
Silverado 1500
WT Crew Cab Pickup 4-Door 5.3L 5328CC 325Cu. In. V8 GAS OHV Naturally Aspirated
2009
Chevrolet
Silverado 1500
WT Extended Cab Pickup 4-Door 4.3L 262Cu. In. V6 GAS OHV Naturally Aspirated
2009
Chevrolet
Silverado 1500
WT Extended Cab Pickup 4-Door 4.8L 294Cu. In. V8 GAS OHV Naturally Aspirated
2009
Chevrolet
Silverado 1500
WT Extended Cab Pickup 4-Door 5.3L 5328CC 325Cu. In. V8 FLEX OHV Naturally Aspirated
2009
Chevrolet
Silverado 1500
WT Extended Cab Pickup 4-Door 5.3L 5328CC 325Cu. In. V8 GAS OHV Naturally Aspirated
2009
Chevrolet
Silverado 1500
WT Standard Cab Pickup 2-Door 4.3L 262Cu. In. V6 GAS OHV Naturally Aspirated
2009
Chevrolet
Silverado 1500
WT Standard Cab Pickup 2-Door 4.8L 294Cu. In. V8 GAS OHV Naturally Aspirated
2009
Chevrolet
Silverado 1500
WT Standard Cab Pickup 2-Door 5.3L 5328CC 325Cu. In. V8 FLEX OHV Naturally Aspirated
2009
Chevrolet
Silverado 1500
WT Standard Cab Pickup 2-Door 5.3L 5328CC 325Cu. In. V8 GAS OHV Naturally Aspirated
2009
Chevrolet
Silverado 2500
Base Standard Cab Pickup 2-Door 4.8L 294Cu. In. V8 GAS OHV Naturally Aspirated
2009
Chevrolet
Silverado 2500
Base Standard Cab Pickup 2-Door 5.3L 5328CC 325Cu. In. V8 GAS OHV Naturally Aspirated
2009
Chevrolet
Silverado 3500
Base Standard Cab Pickup 2-Door 6.0L 5967CC 364Cu. In. V8 GAS OHV Naturally Aspirated
2009
Chevrolet
Tahoe
Base Sport Utility 4-Door 5.3L 5328CC 325Cu. In. V8 GAS OHV Naturally Aspirated
2009
Chevrolet
Tahoe
Hybrid Sport Utility 4-Door 6.0L 5967CC 364Cu. In. V8 ELECTRIC/GAS OHV Naturally Aspirated
2009
Chevrolet
Tahoe
LS Sport Utility 4-Door 4.8L 294Cu. In. V8 GAS OHV Naturally Aspirated
2009
Chevrolet
Tahoe
LS Sport Utility 4-Door 5.3L 5328CC 325Cu. In. V8 FLEX OHV Naturally Aspirated
2009
Chevrolet
Tahoe
LS Sport Utility 4-Door 5.3L 5328CC 325Cu. In. V8 GAS OHV Naturally Aspirated
2009
Chevrolet
Tahoe
LT Sport Utility 4-Door 5.3L 5328CC 325Cu. In. V8 FLEX OHV Naturally Aspirated
2009
Chevrolet
Tahoe
LT Sport Utility 4-Door 5.3L 5328CC 325Cu. In. V8 GAS OHV Naturally Aspirated
2009
Chevrolet
Tahoe
LTZ Sport Utility 4-Door 5.3L 5328CC 325Cu. In. V8 FLEX OHV Naturally Aspirated
2009
Chevrolet
Tahoe
LTZ Sport Utility 4-Door 5.3L 5328CC 325Cu. In. V8 GAS OHV Naturally Aspirated
2009
Chevrolet
Tahoe
LTZ Sport Utility 4-Door 6.2L 6162CC 376Cu. In. V8 FLEX OHV Naturally Aspirated
2009
Chevrolet
Tahoe
Z71 Sport Utility 4-Door 5.3L 5328CC 325Cu. In. V8 GAS OHV Naturally Aspirated
2009
Chevrolet
Trailblazer
LT Sport Utility 4-Door 4.2L 256Cu. In. l6 GAS DOHC Naturally Aspirated
2009
Chevrolet
Trailblazer
LT Sport Utility 4-Door 5.3L 5328CC 325Cu. In. V8 GAS OHV Naturally Aspirated
2009
Chevrolet
Trailblazer
SS Sport Utility 4-Door 6.0L 5967CC 364Cu. In. V8 GAS OHV Naturally Aspirated
2009
GMC
Canyon
Base Crew Cab Pickup 4-Door 3.7L 3654CC 223Cu. In. l5 GAS DOHC Naturally Aspirated
2009
GMC
Canyon
SLE Crew Cab Pickup 4-Door 2.9L 2921CC 178Cu. In. l4 GAS DOHC Naturally Aspirated
2009
GMC
Canyon
SLE Crew Cab Pickup 4-Door 3.7L 3654CC 223Cu. In. l5 GAS DOHC Naturally Aspirated
2009
GMC
Canyon
SLE Crew Cab Pickup 4-Door 5.3L 5328CC 325Cu. In. V8 GAS OHV Naturally Aspirated
2009
GMC
Canyon
SLE Extended Cab Pickup 4-Door 2.9L 2921CC 178Cu. In. l4 GAS DOHC Naturally Aspirated
2009
GMC
Canyon
SLE Extended Cab Pickup 4-Door 3.7L 3654CC 223Cu. In. l5 GAS DOHC Naturally Aspirated
2009
GMC
Canyon
SLE Extended Cab Pickup 4-Door 5.3L 5328CC 325Cu. In. V8 GAS OHV Naturally Aspirated
2009
GMC
Canyon
SLE Standard Cab Pickup 2-Door 2.9L 2921CC 178Cu. In. l4 GAS DOHC Naturally Aspirated
2009
GMC
Canyon
SLE Standard Cab Pickup 2-Door 3.7L 3654CC 223Cu. In. l5 GAS DOHC Naturally Aspirated
2009
GMC
Canyon
SLE Standard Cab Pickup 2-Door 5.3L 5328CC 325Cu. In. V8 GAS OHV Naturally Aspirated
2009
GMC
Canyon
SLT Crew Cab Pickup 4-Door 2.9L 2921CC 178Cu. In. l4 GAS DOHC Naturally Aspirated
2009
GMC
Canyon
SLT Crew Cab Pickup 4-Door 3.7L 3654CC 223Cu. In. l5 GAS DOHC Naturally Aspirated
2009
GMC
Canyon
SLT Crew Cab Pickup 4-Door 5.3L 5328CC 325Cu. In. V8 GAS OHV Naturally Aspirated
2009
GMC
Canyon
SLT Extended Cab Pickup 4-Door 2.9L 2921CC 178Cu. In. l4 GAS DOHC Naturally Aspirated
2009
GMC
Canyon
SLT Extended Cab Pickup 4-Door 3.7L 3654CC 223Cu. In. l5 GAS DOHC Naturally Aspirated
2009
GMC
Canyon
SLT Extended Cab Pickup 4-Door 5.3L 5328CC 325Cu. In. V8 GAS OHV Naturally Aspirated
2009
GMC
Canyon
WT Extended Cab Pickup 4-Door 2.9L 2921CC 178Cu. In. l4 GAS DOHC Naturally Aspirated
2009
GMC
Canyon
WT Extended Cab Pickup 4-Door 3.7L 3654CC 223Cu. In. l5 GAS DOHC Naturally Aspirated
2009
GMC
Canyon
WT Standard Cab Pickup 2-Door 2.9L 2921CC 178Cu. In. l4 GAS DOHC Naturally Aspirated
2009
GMC
Canyon
WT Standard Cab Pickup 2-Door 3.7L 3654CC 223Cu. In. l5 GAS DOHC Naturally Aspirated
2009
GMC
Envoy
Denali Sport Utility 4-Door 5.3L 5328CC 325Cu. In. V8 GAS OHV Naturally Aspirated
2009
GMC
Envoy
SLE Sport Utility 4-Door 4.2L 256Cu. In. l6 GAS DOHC Naturally Aspirated